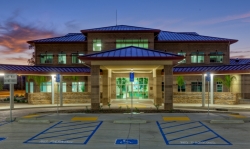 San Diego, CA, April 10, 2012 --(
PR.com
)-- Balfour Beatty Construction announced today that the Wounded Warrior Headquarters and Hope and Care Center at Marine Corps Base Camp Pendleton, Calif., received a LEED® Platinum Certification from the U.S. Green Building Council (USGBC) and the Green Building Certification Institute (GBCI).
Construction on the two-building project began in April 2010 and completed in October 2011. The facility serves as the West Coast headquarters for the Marine's Wounded Warrior program.
The Hope and Care Center is 30,995 square feet and includes a resource and recovery center, weight training center, outdoor amphitheater, therapeutic gardens, indoor therapy pool, outdoor lap pool, climbing wall and an 1/8 mile covered track. It also includes space for counseling, employment support, financial management, community orientation, training, and outreach programs.
The headquarters administration and multi-purpose facility includes 9,354 square feet of space for administration and operations as well as multi-purpose space for a visitor waiting area and conference rooms. In addition, the offices are comprised of flexible components, easily modifiable for future office needs.
Both facilities are 100% ADA-compliant and are designed to complement the community atmosphere created by the nearby Wounded Warrior Barracks, also completed by Balfour Beatty Construction in 2010. That facility received the first-ever LEED Platinum certification for a U.S. Navy and/or U.S. Marine Corps project worldwide.
"Our primary focus was to create a holistic, integrated design process which provided the highest level of sustainable quality and a healing environment to the wounded warriors," said Sean Hulen, Balfour Beatty Construction vice president and project executive. "Combined with a design-build delivery method, the use of Building Information Modeling, or BIM, enhanced the LEED process by allowing the project team to quantify materials, minimize contingencies, and reduce waste generated on site."
"Both facilities far exceeded the minimum amount of points to achieve LEED Platinum," said Eric Stenman, Regional CEO for Balfour Beatty Construction. "I'm proud of our team's commitment to deliver high performance buildings at the highest level of sustainability possible for the Camp Pendleton Marine Corps Base," Stenman added.
The project's sustainable design solutions are expected to reduce water usage by more than 84,000 gallons per year, and provide over $52,000 in annual energy savings, combined for both buildings.
The Wounded Warrior facilities were designed by architect Cass, Sowatsky, Chapman & Associates of San Diego. Balfour Beatty Construction staff working on the project included Sean Hulen, vice president; Dave Christensen, general superintendent; Sean Phillips, superintendent; Charles McArthur, senior project manager; Matt Wathen, project engineer; Joseph Mansour, quality control manager and Don Sutton, site safety health officer.