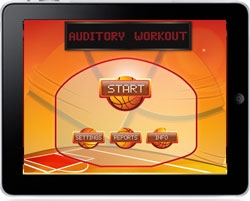 Burbank, CA, April 20, 2012 --(
PR.com
)-- Virtual Speech Center Inc., the provider of mobile applications for speech therapy, announced today the release of Auditory Workout, an iPad application available for download on Apple's ITunes App store.
Auditory Workout was created by a certified speech and language pathologist for students ages 4–10 who exhibit auditory processing disorders or other related disorders (e.g., receptive language disorder or autism). Auditory Workout is research-based and focuses on improving auditory attention and memory and auditory processing of verbal directions.
This engaging, colorful app includes over 1,000 audio instructions. Children are welcomed by the basketball coach, who encourages them to work hard. Children earn a basketball for each correct response, and when they accumulate enough balls, they are rewarded with a game (a game of catch for younger children or/and basketball for older children).
Auditory Workout allows children to follow increasingly longer and more complex directions and includes more than 13 levels of difficulty. The directions are divided into four categories:
Basic and Spatial Directions
Quantitative directions
Temporal directions
Conditional Directions
Auditory Workout is easy to navigate and allows users to employ several tools, enabling them to perform the following tasks:
Enter multiple students
Change settings
Select levels of difficulty
Select auto-scoring
Select alternate counts for multiple students
Enable or disable background noise feature
Enable or disable rewards, the basketball, and/or the games
Enable or disable feedback sounds
Track correct and incorrect responses
E-mail results at the end of the game
To install the Auditory Workout application, please visit the Apple application store page below:
http://itunes.apple.com/us/app/auditory-workout/id518697520
To learn more about this application, please visit www.virtualspeechcenter.com website:
http://www.virtualspeechcenter.com/Resources/auditory_workout_app.aspx