New Design Cuts Nurse-Injuries and Accelerates Patient Recovery
As hospital design progresses and makes patients recover faster, the alarm-bell keeps ringing for all the nurses getting injured.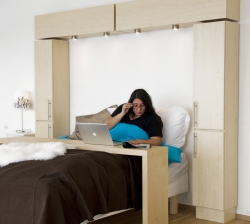 Oslo, Norway, May 12, 2012 --(
PR.com
)-- An old saying goes "to stay healthy avoid hospitals." That may not be so wrong after all, at least not for nurses, according to research. As much as 25% of nurses in Norway must retire early after work injuries or back problems with lifting and patient handling as main causes, a heavy price for society and not least the nurses themselves.
That may soon be history as new patient handling solutions "will change the way patient rooms are designed," says Skjalg Aabakken, designer in Integra Care Products, a Norwegian patient handling producer as we meet him in their Oslo office. "Now finally it is possible to create positive patient rooms that are great both for patients and nurses."
Forgot That Patients Are Persons
It started with an eye-opener back in 2005 when Aabakken had designed a ceiling lift as a consultant. "It was a shock to see how brutal this system looked in a customer's bedroom ceiling. We had solved the lifting need, but forgotten that a real person was living in that room. How could he sleep with a spiderlike thing lurking in the corner?" Aabakken felt he must redo the job "I had to take a radical new approach. I wanted a solution that would add to the interior, not destroy it."
Easier Said Than Done
Aabakken assembled a small design-team and started up. But how could the lifter with its motor, slings and handling bars be easily available for nurses and also contribute to a healing interior? It proved easier said than done. "We had planned for eight entire weeks of concepts generation, but ended up doodling and making mock-ups for more than a year." The team felt that there had to be a solution, but could not nail it. "The concepts were super-efficient but intruding or discrete but slow." Was it not possible after all?
I think we've got something
One rainy October evening Aabakken and Svein Idso, his fellow entrepreneur, discussed the problems over a beer. "The ideal solution must fit in the room and be efficient; just like my arm is there when I need it." Idso extracted his arm towards the beer, took a sip "and goes back again when I'm done" letting his arm drop.
The solution appeared right in front of them. "Of course. It must extract like an arm and fold neatly back in place," Aabakken repeated. Idsoe continued "And it will match the interior just like the arm matches the body!" After 12 months the solution was born out of a simple hand-gesture and it took less than 10 minutes to scribble it down on a napkin. "Svein, I think we have got something here," Aabakken said. It is efficient and good looking.
http://www.youtube.com/watch?v=dsC8NvAstA8
Healing Environments
Now six years later the solution is world-patented, in production and already sold to countries around the globe. The Integra-team works closely with architects and hospital furnishing suppliers to create patient rooms that are efficient and exhibits a positive interior. Hospital research shows that healing design in hospitals actually speeds up the recovery-process. It appears architects have been missing a patient handling system that fits nicely into their premium rooms.
Not Only Appearance
But it does not help that patients recover faster if the nurses keep getting injured. According to Aabakken their studies showed serious design-flaws with the portable lifters in use today. Often an urgent transfer-need arises quite suddenly and the lifter is in use already, borrowed to another hospital station or "out of battery." The outcome is stress, time-waste and even injuries as alternative solutions like manual transfers are more likely to be used. Aabakken continues. "Nurses appreciate Integralift's availability. They can enter the room and know that there is always a complete working transfer tool readily available next to the bed. They do not need to spend time finding slings or changing batteries. The Integralift system has proved 40% more time-efficient than existing solutions.
The future
Focus on patient emotions will increase in the next phase of healthcare development. Happier patients recover faster and cost less. Healthier nurse staff shortens the hospital queue. Integralift sets the direction for future patient handling solutions.
Contact
Integra Care Products AS
Skjalg Aabakken
004721982684
www.integralift.net

Contact