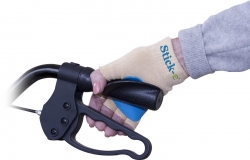 Chicago, IL, May 16, 2012 --(
PR.com
)-- Though the patent pending
Stick-e® Gloves
were originally created to assist Yogis to stick better in their poses, they now are being utilized as a therapeutic prop. Elderly people who may have poor circulation and thinning skin benefit from the Stick-e® Gloves' thermal and protective barrier properties while people suffering from Rheumatoid Arthritis, MS, Parkinsons, and other autoimmune diseases also benefit from the non slip palm and exposed finger tips for better gripping.
Stick-e® Gloves feature a smooth non slip palm, highly absorbent fabric and exposed fingers to provide a non slip grip during exercise while maintaining the tactile function needed to help with dexterity and body awareness. Users of the Stick-e® Gloves found that these same features are therapeutically beneficial as well.
Libby Andrews, the inventor and founder of the Stick-e® Products fitness line, discovered that her 90 year old father was wearing old gloves with the fingers cut off. Upon inquiring, she learned that his hands were often cold due to poor circulation and his aged thin skin was irritated from using his walker. Yet he needed his finger tips available to use the remote control, keyboard and phone. While the gloves provided warmth and protection for his hands, he began to experience a new problem. The loose fit and bulkiness of his gloves did not provide adequate gripping of drinking glasses and other slippery items and they often dropped. Libby suggested he try her patented Stick-e® Gloves and they solved all of his issues. From then on he wore his Stick-e® Gloves all of the time and only removed them for meal time.
As people age, poor circulation, dry and thinning skin can lead to a variety of health concerns. Thin skin is more easily torn and leads to infections caused by letting bacteria in. The elderly have a harder time fighting bacteria, so it's important to decrease their chances of infection. Livestrong.com reports that caring for elderly skin requires the use of products that will provide protection and help replenish lost moisture. Stick-e® Gloves provide protection against tears, cuts, and bruises.
By also providing a more secure and comfortable grip, Stick-e® Gloves with their unique Stick-e® pad also help minimize the number of injuries sustained from falling while using a cane or walker. According to a study published by the Journal of the American Geriatrics Society, 87 percent of fall injuries involved walkers and 12 percent involved canes. About 47,000 older Americans are treated in emergency rooms each year from falls associated with walkers and canes, according to the study.
The therapeutic benefits of Stick-e® Gloves go beyond the elderly and those using mobility devices to assisting those suffering from arthritis and other autoimmune diseases. According to the Centers for Disease Control and Prevention, arthritis and other rheumatic conditions are recognized as the leading cause of disability in the United States. Of adults with doctor-diagnosed arthritis, 17 million, or 38 percent, report activity limitations attributable to arthritis. Due to the associated pain or nerve damage, arthritis and autoimmune disease sufferers often have a difficult time holding a tight grip. With the "sticky" or non–slip palm on Stick-e® Gloves, wearers can more easily grasp a slippery object. The exposed fingers of the gloves ensure that they are not hindered in daily tactile activities from turning the page on a book to using sewing needles.
Stick-e® Gloves are reasonably priced at under $20 per pair and are available in beige or black and found online at www.stick-e.com or in a variety of home health catalogs this Fall including Gold Violin, Acacia, Feel Good Store and Time for Me. The same Stick-e® Gloves marketed as a
yoga and pilates prop
will also be available at retailers like Sport Chalet, and Dunham's Sporting Goods as well as Dick's Sporting Goods, Modell's Sporting Goods, and REI this fall, 2012.
Stick-e® Products LLC, is committed to helping people incorporate fitness into their daily life by eliminating obstacles and solving problems for a more rewarding fitness experience. They are dedicated to innovative and results-oriented products and believe that you become what you live, and you should live what you love.