New Kickstarter Project the "Next Big Thing" in App Development?
Kickstarter.com, the crowdfunding site that has recently raised millions for creators of the "ePaper Pebble Watch" and "Double Fine Adventure," has recently posted another stand-out idea: The King Pong Project.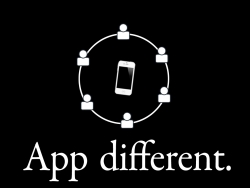 Portland, OR, May 16, 2012 --(
PR.com
)-- The project was published by the App-Different Development Studio, makers of the popular iOS utility "Last Alert", who seek funding to transform their business into a community-based crowdsourcing app design platform.
The basic idea is to give the general public a voice in designing apps for the iOS platform. App-Different members will be able vote on various aspects of the app design and function, as well as compete for prizes and cash awards by submitting their own ideas, artwork, and other contributions to further the development.
The App-Different team already has the framework in place for their first community designed app, "King Pong." They've obtained a provisional patent on a method called "AirMotion" that they've created to play the game on Apple TV. As part of the kickstarter promotion, you can download the game (as is) for free. The idea is that you try out the game, start generating ideas to improve expand on it, then go to the member forums to discuss, submit ideas, and vote on suggested improvement.
If the concept appeals to you,
click here
to read more about how to get involved.
They offer a wide variety of backer awards, ranging from a free completed app to "Gold Star" membership, to a 7 night stay at a 4-star resort, where you are put on a "mission" to spread the word about App-Different.
There is great potential here, as having a voice in app development will appeal to many iOS users who have insight and ideas, but until now have not had an outlet to express themselves.
This very well could be "the next big thing" in app development.
Watch the promotional video.
Contact
App-Different Development Studio
Dan Shapley
503-395-5503
www.app-different.com

Contact