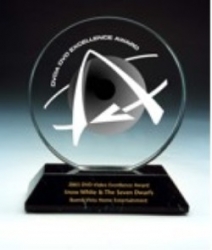 Knoxville, TN, June 08, 2007 --(
PR.com
)-- Each year, the DVD Association gathers to recognize significant achievements in the DVD Industry. This year, Keynote Speaker Van Ling and other industry notables will be covering a variety of topics centered on the process of creating excellent programs. In addition, there will be in-depth side sessions, including a special session on Viewing Excellence presented by industry expert, Joe Kane.
"We have a distinguished list of speakers that will discuss not only DVD creation but also the advanced High Definition formats HD DVD and Blu-ray Disc that are now a significant part of our business" says Bernie Mitchell, President of DVDA.
The day of sessions is hosted by THX Best Practices Laboratory and will conclude with the 2007 DVDA Excellence Awards ceremony. The DVDA Excellence Awards program is one of the industry's longest running events and for the first time, these awards include submissions from the Next Gen formats; HD DVD and Blu-ray Disc.
Tickets for non-DVDA members are only $50 (DVDA Members attend free; however, you must register online). Registration covers the full day of sessions, luncheon sponsored by Microsoft, and the Excellence Awards Ceremony, held in the Chaplin Theater, located at Raleigh Studios in Hollywood.
Complete details, online registration and ticket purchase are posted at:
www.dvda.org
Abobut the DVDA:
The DVDA is a Global Community Dedicated to Fostering the Development of DVD and Related Technologies.
About THX Best Practices Laboratory:
www.thxbpl.org
About Microsoft HD DVD:
http://thisishddvd.com/
DVD Association 11130 Kingston Pike, Ste. 1-347 Knoxville, TN 37922
Contact: Bernie Mitchell
Tel: 865 599-6343
Email: president@DVDA.org
###