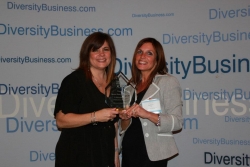 Lombard, IL, May 25, 2012 --(
PR.com
)-- Desert Rose Design, a full service agency offering both integrated marketing and web application development and located in Lombard, Illinois, was selected as one of the Top Businesses in the United States by DiversityBusiness.com.
DiversityBusiness.com, the na­tion's leading multicultural B2B Internet portal that links large organizational buyers to multicultural product and service businesses, an­nounced the Div500, the 12th annual listing of the nation's top 500 diverse-owned businesses. Ranging in revenue size, the com­panies listed on the Div500 represent the nation's top companies and challenge the long-held notion that diverse-owned businesses are small or insignificant.
This is the fourth year in a row that Desert Rose Design has made the Nation's Top Business List, and they are honored to be recognized for their efforts yet again. "There are no words to describe how fortunate we feel for achieving this distinguished award for four consecutive years," said Helen Levinson, Principal at Desert Rose Design. "As a company, we continue to dedicate ourselves to creating business opportunities and solutions for our clients through our services, and being recognized for the work we love is extremely rewarding."
"The Div500 companies are the heroes of diverse-owned business in America," said Kenton Clarke, CEO of Computer Consulting Associates International, Inc. and founder of DiversityBusiness.com. "These are the entrepreneurs that have conquered the hurdles and made the sacrifices, building and strengthening their communities, providing jobs and helping to keep the fabric of the U.S. economy together."
Desert Rose Design was recently honored for this award at DiversityBusiness.com's 12th Annual National Business Conference, which took place April 25 – April 27, 2011 at the Foxwoods Resort & Casino in Mashantucket, Connecticut.
About Desert Rose Design
Desert Rose Design is a hybrid marketing and web application development firm located in Lombard, Illinois. They are a WBENC certified woman owned business that provides brand positioning, web application development and integrated marketing specialties. Their online communication solutions include custom web applications, SEO and PPC programs, eMarketing campaigns, and social media management, while their offline programs help build product and service sales with rebranding programs, product launches and sales support tools.