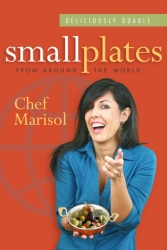 Denver, CO, May 31, 2012 --(
PR.com
)-- An independent digital publisher, Hipso Media, is shaking up the publishing world at this year's BookExpo America with the release of Chef Marisol's "Deliciously Doable Small Plates from Around the World," a ground-breaking multimedia e-cookbook designed exclusively for the iPad and the tablet experience.
The book's author, Chef Marisol, will be the first to tell you this isn't her grandmother's cookbook. It is a fully interactive tour-de-food from every country where her chef knives have made the cut. It is enhanced with demonstration videos, hyperlinks, ambiance music, and mouth-watering pictures of every single recipe.
"This is an e-cookbook of the future," said Hipso Media publisher, Rob Simon. "It has been designed and produced start-to-finish exclusively for the functionality and beauty of an iPad. And unlike any other ebook, you can actually print the recipes to take to the kitchen, or you can share, Tweet or email them to friends."
You can see videos about the book at YouTube.com/HipsoMedia.
The release of this book marks Marisol's second appearance at BookExpo America (BEA). Her first novel, "The Lady, The Chef and The Courtesan" (Harper Collins), was also launched at BEA to great acclaim and was subsequently translated into several languages. A detour between novels led Marisol to become a chef. And after honing her culinary artistry in kitchens from Bali to Barcelona, she was ready to lend her pen to a dream she had been nibbling on since leaving her native Venezuela: writing a cookbook.
"Deliciously Doable Small Plates" combines the best of all worlds at this year's BEA: storytelling, a hot culinary trend, and the multi-sensory ebook technology on which these small plates recipes are being served.