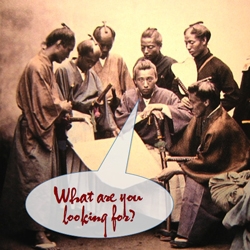 Osaka, Japan, June 02, 2012 --(
PR.com
)-- The Iyo Yuinoh Center, an Osaka-based wholesaler of traditional Japanese crafts and other products used in the ancient Japanese Yuinoh engagement ceremony, is formally announcing its English website
TalesofYui.com
to make its catalog of 12,000+ crafts available to collectors around the world.
The Yuinoh engagement ceremony takes place between the families of a bride and groom in Japan, and features an exchange of gifts each steeped in meaning meant to bless the soon-to-be-married couple. The ceremony traces its origins back more than 1600 years to the days of Japan's 16th emperor, Emperor Nintoku. While not antiques, these gifts are still made today by a network of craftsmen and artisans using centuries old techniques.
Their English-language site, TalesofYui.com, produced and operated by Tokyo-based partner Macha Latte Media, seeks to make this artwork available to collectors around the world in an effort to preserve the arts and techniques that have been handed down through the centuries.
TalesofYui.com launches with the Yuinoh Center's prize product, Takasago Dollshandmade by master craftsmen in Japan. These wood-carved figures are presented at traditional Japanese engagement ceremonies primarily in the Kansai (Western) region of Japan by the groom's family to the bride's family signifying and blessing the couple with a long and happy marriage.
However, with 12,000+ items in stock, products will be made available for purchase a little at a time. In the meantime, they are taking requests under the Treasure Hunter Yui service. Utilizing their warehouse of crafts and extensive network of artisans, they'll find that rare item you've been searching for.
Send your treasure request to them here:
http://talesofyui.com/hunter
Inquiries can be made here to overseas agent Ian Chun at Matcha Latte Media: http://talesofyui.com/contact
About TalesofYui.com
Tales of Yui encourages you to bring the inspiring cultural story of "yui" into your life.
The beauty of Japan, the history, the mystic of traditions layered upon traditions, where meaning takes form, and form creates meaning. For over 16 centuries, the yuinoh engagement ceremony was the beginning of a union not just between husband and wife but between families, creating bonds or "yui" to last a lifetime.
About Yuinoh Center
The Iyo Yuinoh Center has been supplying Japan with the traditional crafts used in the traditional Japanese engagement ceremony (yuinoh) between families for the last 72 years. Originally a manufacturer of mizuhiki string-sculpted decorations, the company has become the premier supplier of items necessary for this tradition.
Matcha Latte Media
Tokyo-based startup Matcha Latte Media is dedicated to helping small and medium businesses, families, and artisans in Japan reach customers in overseas markets through e-commerce store management and marketing. By making these products available for purchase online, we hope to put Japanese culture into the hands of consumers around the world.