New Report Outlines a More Affordable Route to Transforming Public Services
Results of five-year investigation suggests public sector managers and politicians should shift their focus from 'leading' to 'helping'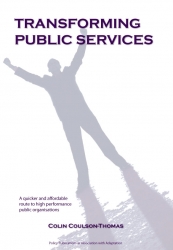 Peterborough, United Kingdom, June 07, 2012 --(
PR.com
)-- A succession of 'top-down' initiatives to improve public services have been general, time consuming and unnecessarily expensive and disruptive according to Adaptation chairman Colin Coulson-Thomas author of a new report Transforming Public Services on better alternatives. The professor argues "While traditional approaches are being implemented, challenges, opportunities, policies, priorities and requirements may change."
The report follows a five-year investigation of different ways of improving services. It sets out a more affordable route to creating high performance public bodies. Coulson-Thomas finds "Demand is outstripping available resources and tax payers and politicians are impatient for responses and results. Public sector leaders face the challenge of doing more with less - working with existing people and budgets to quickly achieve multiple objectives and provide clear benefits to stakeholders."
Transforming Public Services outlines an affordable approach to 'squaring the circle' that does not require fundamental restructuring or a 'change of culture', namely performance support, which aims to make it easier for people to excel at the difficult jobs performed by staff in demanding 'front line' public service roles. 24/7 support can range from simple checklist to mobile phone applications and on-line tools.
Coulson-Thomas explains: "While other approaches seek to re-organise or alter attitudes in the hope that improvements in performance may follow, performance support focuses upon particular work groups and concentrates upon helping people rather than attempting to change the culture or structure within which they work. It can have a quicker, a more direct and a more significant impact."
The Professor believes "Setting out to 'cut bureaucracy' and encourage innovation with approaches that focus upon bureaucratic structures and processes does not make sense. Performance support works with existing people and cultures. Its focus is on liberating and supporting people in the 'front line' and enabling them to innovate. It can also prevent outputs that breach policies, guidelines and required standards."
Coulson-Thomas feels "Public sector leaders have been driving changes through organisations rather than enabling people to achieve desired outcomes by providing better support. We need a change of emphasis from managing, motivating and leading people to helping them, for example by identifying the changing requirements and aspirations of citizens and making it easier for them to achieve their objectives."
The Adaptation chairman continues: "Leaders are trying to exhort, inspire or motivate others to perform, but however much people are cajoled or 'set alight' they may under-perform if they lack the 'tools of the job'. The impact of simple and affordable performance support tools today can be profound and quick, the equivalent of raising aspiration and achievement from wooden hut to cathedral in weeks or months rather than years or decades."
The study found many 'top-down' initiatives are associated with working people harder, 'command and control' and distrust, while the focus of performance support applications examined was upon making it easier for people to understand complex areas and do stressful 'front line' jobs. They also engaged people, so costly internal communications, engagement and management of change programmes were avoided.
Performance support can improve the effectiveness of key work groups, contribute to the achievement of multiple objectives, leverage investments in other programmes and achieve visible and quicker impact. Applications can increase understanding, boost performance, reduce costs, speed up responses, alleviate stress and ensure compliance. Services like healthcare, which impact upon all our lives, can be transformed. People can be helped to take more informed and responsible decisions.
Transforming Public Services by Colin Coulson-Thomas is published by Policy Publications in association with Adaptation and can be obtained from www.policypublications.com. Reports on critical success factors for key corporate activities and what high performers do differently in these areas are also available from Policy Publications, along with Talent Management 2 which applies lessons from the investigation to companies, Winning Companies; Winning People on helping average people to excel at difficult jobs and Developing Directors on building an effective boardroom team.
Prof. Colin Coulson-Thomas, author of Transforming Public Services, Talent Management 2, Winning Companies; Winning People and Developing Directors has received international recognition for his work as a change agent and transformation leader. A vision holder of successful transformation programmes he has held public sector board appointments at national and local level. The world's first professor of corporate transformation, he has helped over 100 boards and management teams to improve performance. Colin is chairman of Adaptation, a non-executive director of NHS Peterborough and NHS Cambridgeshire and a part-time academic at the University of Greenwich. He can be contacted via www.coulson-thomas.com
Contact
Adaptation Ltd
Colin Coulson-Thomas
0044(0)1733361149
http://www.adaptation.ltd.uk
http://www.policypublications.com

Contact