ALPCO Diagnostics Recognized for Support of the American Red Cross 2011 Relief Efforts
ALPCO was recognized on May 29, 2012 for their generous contributions to the American Red Cross in 2011.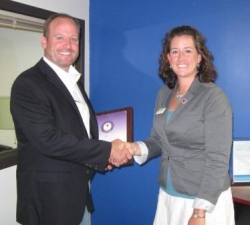 Salem, NH, June 11, 2012 --(
PR.com
)-- Last year, ALPCO donated to the American Red Cross Japan Earthquake and Pacific Tsunami relief efforts, as well as the 2011 Massachusetts Tornado relief fund. With help from the donations made by ALPCO and other corporate supporters, as well as individuals throughout the country, the American Red Cross was able to provide aid to those affected by these tragedies last year.
In a press release, Maria White, Chief Executive Officer, NH Region said, "The donations of people in New Hampshire and across the country to the American Red Cross have been critical in moving Japan from a state of disaster relief to recovery and rebuilding."
On May 29, 2012, American Red Cross Chief Development Officer, Stephanie Couturier, presented ALPCO's President, Sean Conley, with a plaque of recognition for the company's generous donations to the American Red Cross in 2011.
"We rely on contributions from individuals, foundations, and organizations such as ALPCO to prepare for, respond to, and provide relief during times of disaster, and our work would not be possible without those contributions," said Couturier.
In reaction to the recognition, Mr. Conley said, "ALPCO takes great pride in being able to help those in need where and when we can through great organizations like the American Red Cross. We find ourselves fortunate to be involved in an industry that plays a daily role in furthering clinical research, eventually leading to better healthcare and clinical outcomes. But as global events unfold that we have a lesser impact on, we're proud to play at least a minor role in supporting organizations and efforts like those that the Red Cross can serve."
To see all of the American Red Cross Corporate Supporters, click
here
.
About ALPCO (American Laboratory Products Company)
ALPCO was founded in 1990 as an importer and distributor of high quality research immunoassay kits. Since that time, their primary goals have been to offer a diverse line of assays that appeal to their broad customer base, while also providing exceptional customer service and product support. ALPCO has partnered with more than forty manufacturers and has grown its distribution network throughout North America.
www.alpco.com
About the American Red Cross
The American Red Cross shelters, feeds and provides emotional support to victims of disasters; supplies more than 40 percent of the nation's blood; teaches skills that save lives; provides international humanitarian aid; and supports military members and their families. The Red Cross is a not-for-profit organization that depends on volunteers and the generosity of the American public to perform its mission. For more information, please visit redcross.org or join their blog at
blog.redcross.org
.
Contact
ALPCO Diagnostics
Sean Conley
1-800-592-5726
www.alpco.com

Contact