Lois Hamblet, CEO of Ziptip, a Mobile Payments Solution for Tips and Gratuities, and One of Boston's Hottest Startups, Interviewed by Pymnts.com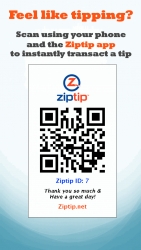 Boston, MA, June 11, 2012 --(
PR.com
)-- Lois Hamblet, CEO of Ziptip, Inc., (
ziptip.net
) a mobile payments solution designed specifically for the payment of tips and gratuities for service workers, has been interviewed by Alex Walsh of Pymnts.com as part of Pymnts.com's Innovators Series. Pymnts.com is an online media channel that captures commentary, information, news and analysis on "what's next" in the payments sector, worldwide. You can listen to the podcast of the interview here
pymnts.com/briefing-room/mobile/mobile-payments/Ziptip-Wants-Your-Valet-to-Accept-Tips-with-PayPal/
.
Ziptip, Inc. was organized in 2011 to solve the many problems of both paying and receiving tips and gratuities. A Tipper's ability to tip is limited by cash on hand, time and social custom. With cash usage in decline, Tippers are increasingly frustrated. Ziptip simplifies tipping by enabling a tipper to transact a tip simply by scanning an image included on a service provider's business card. Service providers can also display their unique images (and get tips) by wearing a T-shirt, badge, skin tattoo or by displaying the image at their workstations, in emails or on Facebook pages. Users link to PayPal, the world's most trusted 3rd party payment processor.
Ziptip innovates the tipping space. Not only does Ziptip solve tipping problems for tippers like lack of cash and time, but also Ziptip opens up tipping opportunities for all service workers. "It's not intuitive that some service workers earn tips while others don't," says Ziptip's CEO Lois Hamblet. "With Ziptip, nothing is standing in the way of any service worker earning tips."
Service providers sign up at ziptip.net, customize their unique images and order free cards used to get instant tips.
Tippers simply load the free Ziptip app available in both the App Store for iPhones and the Android market.
The Ziptip service is available in over 20 countries.
Ziptip is included in Tech Cocktail's list of Boston's Hottest Startups and its solution has been awarded a number of accolades including Best Use Case/Best Market Potential (HP Cross Platform Challenge Award) and Best Use of the Sencha Touch App Framework at WIP Connector's Muther! of all Hackathons + DevCon and Best App, Silver Medal (Investors' Choice Award) and Best Use of the PayPal API (Sponsor's Choice Award).
Contact Lois@Ziptip.net
Contact
Ziptip, Inc.
Lois Hamblet
617-838-1671
ziptip.net

Contact