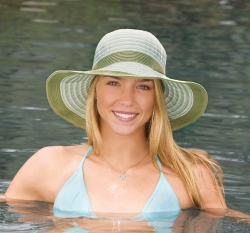 Los Angeles, CA, June 19, 2012 --(
PR.com
)-- On the first day of summer, Wednesday, June 20th, The Headwear Association (THA) is hosting the fourth annual "Hat Day in the Sun" to help arm people in the fight against skin cancer.
Hat Day in the Sun is an annual national public awareness campaign that aims to educate adults and children that the right hat can protect against skin cancer, sun damage, and premature aging. To celebrate this event, THA members will be giving away free wide-brimmed sun-protection hats in cities across the country, including New York, Los Angeles, Philadelphia, Boston and more. For a complete list of cities and locations, please visit
www.TheHeadwearAssociation.org
. The free hats are being provided by Dorfman-Pacific, Bollman Hat Company, Broner Hat & Glove, Philadelphia Rapid Transit and Wallaroo Hats. If you do not live in one of the host cities, you can enter to win a free Sun Protection hat by simply Liking the THA Facebook page
https://www.facebook.com/TheHeadwearAssociation.