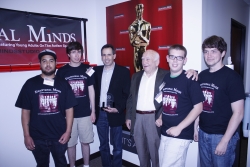 Sherman Oaks, CA, June 24, 2012 --(
PR.com
)-- It's a wrap for Exceptional Minds, which celebrated its first successful year Friday as a nonprofit vocational school and working animation studio for young adults on the autism spectrum.
The school marked the event with an open house at its Sherman Oaks studios, where actor Ed Asner, actress Isabella Hoffman, Tamara Miles from Warner Brothers and other supporters gathered to celebrate a long list of accomplishments, including three film projects, Adobe testing accreditation and an accomplished student body preparing for careers in post production and media graphics.
Among its more notable accomplishments: Exceptional Minds received credit as the post-production studio for the closing credits of the movie Lawless, a Weinstein Company production that was accepted into the prestigious 2012 Cannes Film Festival competition.
The working studio was chartered in September 2011 as the only school of its kind to offer Autism Spectrum Disorder (ASD) individuals instructional training in computer animation and special effects as a bridge between high school and the working world. According to a recent study prepared for the U.S. Department of Education, one in three young adults with autism lack job experience and college or technical training eight years after high school graduation.
Roughly a half-million autistic kids will reach adulthood in the next decade.
Recognized as one solution for young adults on the spectrum who have aged out of the system, Exceptional Minds has received support from Tom Hanks, Autism Speaks, Adobe Systems, Visual Effects Society, Bialis Family Foundation, Luminous Capital, Riordan Foundation, New York Community Trust, and Kayne Anderson Capital Advisors Foundation, among others.
During Friday's open house, Exceptional Minds singled out Adobe Systems for its early support and ongoing dedication to the school, including a generous donation of more than $25,000 in development tools and equipment.
Autism advocate and member of the Exceptional Minds advisory committee Ed Asner presented the award to Mike Kanfer, the Senior Business Development Manager for Adobe Professional Film and Video. "Without the help of Mike and Adobe, there would be no Exceptional Minds program," said Asner, whose son and grandson are on the autism spectrum. He spoke encouraging words to the students, at one point telling them he suffers from "Asnerism" instead of autism and that they have a bright future ahead as not only self-sustaining but also creatively fulfilled individuals. Asner is actively involved in the school in addition to his career as an actor with recent roles in Hawaii Five-O and the theatre production of FDR.
Kanfer also recognized the unique talents of the students. "In a short amount of time, the students here have been able to absorb (the programs). It's almost like they go right inside the computer," said Kanfer, who accepted the award on behalf of Adobe Systems and announced yet another generous donation to the school. Adobe will update the school's studio workstations with the latest Creative Suite 6 software worth several thousand dollars.
The three-year Exceptional Minds program includes technical training for Adobe (ACA) certification, job readiness skills and a professional reel/portfolio that graduates can use to seek employment in the fields of animation, computer graphics and visual affects. Real-world work experience is an important part of the Exceptional Minds curriculum as is hands-on involvement in animation and post-production industries; Exceptional Minds students took field trips to Warner Brothers, Nickelodeon, DreamWorks and other studios during its first year. As a working studio, Exceptional Minds took in three film projects in the past year, including Lawless and the 2011 release Judy Moody and the Bummer Summer.
"Last year this time we started with just a few students, a lot of determination, and a vision," said Ernie Merlan, Exceptional Minds Program Director. "We have come a long way in our goal to prepare visually-gifted individuals on the spectrum for productive careers, and it's just the beginning," he added.
The school started with 11 students its first school year ending Friday and will expand to more than 15 students for the school year ending in 2013. During the summer, Exceptional Minds is offering workshops for high schoolers and others on the spectrum interested in developing short takes, animations and short video games.
About Exceptional Minds:
Exceptional Minds is a non-profit vocational center and working production studio for young adults on the autism spectrum. Chartered in 2011 to provide the training necessary for visually-gifted ASD individuals who may not otherwise be able to make the transition from high school to the working world, Exceptional Minds offers technical proficiency and work readiness skills that prepare students for careers in graphic arts, animation, web design, visual effects and rotoscoping. Located in Sherman Oaks, Calif., Exceptional Minds is both an instructional learning facility and a working studio with hands-on student involvement in production projects, many for the film industry. The school worked on three films during its first year.