World's Lowest Priced Gigabit Capacity Wireless Bridge, with 99.999% Availability at a $9,999.90 Price, is Featured in Lightpointe's "Five 9's for Five 9's" Promotion
LightPointe's HyBridge outdoor broadband wireless bridge is the world's lowest priced Gigabit Ethernet link capable of "five nines" link availability (99.999%) and is specially priced this month at US$9,999.90 MSRP.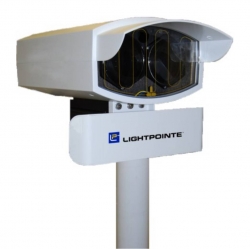 San Diego, CA, July 05, 2012 --(
PR.com
)-- LightPointe, the number one manufacturer of point-to-point Gigabit capacity FSO wireless bridges, and the leader in low latency 60 GHz small cell and 80 GHz backhaul radios used for broadband transmission, announced a special promotion for July featuring its HyBridge™ SXR-5 wireless bridge. The HyBridge outdoor broadband data bridge is the world's lowest priced Gigabit Ethernet link capable of "five nines" link availability (99.999%) and is specially priced this month at US$9,999.90 MSRP.
"The HyBridge SXR-5 provides enterprise, government and 4G/LTE telecom carriers with an affordable outdoor wireless bridge solution for applications such as point to point building connectivity, 4G/LTE small cell backhaul and security camera backhaul," said John Taylor, Vice President of Sales for LightPointe. "Our Five 9's for Five 9's promotion this month enables our valued distributors and resellers to stock up on the HyBridge for just US$9,999.90, which is thousands less than competing alternative links which utilize only radio frequency or FSO transmission. The design of HyBridge wireless bridges goes beyond traditional outdoor radios by employing a patented combination of 4th generation 850 nm wavelength Free Space Optics 'green technology' and RF technology. In more than 99% of operating conditions the bridges rely on advanced laser transmission, which is faster than fiber, highly secure, license free, and immune to RF interference and congestion issues. Yet the system can automatically switch to RF transmission if conditions warrant, which is typically less than 1% of the time. The switching is completely transparent and automatic, and provides a built-in backup for the link, giving IT managers and network planners the added piece of mind of constant failsafe connectivity. Whether connecting two buildings in a school or business campus setting, or deploying hundreds of LTE small cells in an urban environment, nothing on the market today beats the ROI of the HyBridge Gigabit Ethernet bridge."
The HyBridge SXR-5 was designed at LightPointe's R&D center in San Diego, California, where it is also manufactured. The company has deployed wireless bridges in over 14,000 sites around the world.
Features of the HyBridge wireless bridge include:
High speed full-duplex Gigabit wireless connectivity for highly secure, reliable transmission up to 1,100 meters at 3 dB/km or 850 meters at 17 dB/km.
Exclusive patented DualPath™ architecture for up to 99.999% network availability, even in dense fog and heavy snow.
Enhanced link distances due to use of optical wireless and RF. The Maximized Distance DualPath™ feature enables longer distances due to rate adaptive use of multiple bands.
Ability to add the HyBridge unit to existing legacy wireless bridge installations, thus protecting the customer's investment in their current slower data bridge while upgrading to Gigabit Ethernet.
Integrated Free Space Optics and radio for a complete solution (easy install and attractive design, critical for small cell backhaul).
AirePex™ Intelligent Switching (patented) includes an algorithm to change between optical and RF transmission, preventing unnecessary switching.
Intuitive AireManager™ Web interface allows links to be configured and monitored from a network computer.
SNMPV1/2c support and alarm reports via SNMP traps.
Standard 1000 RJ 45 (copper) data interface with optional SFP 1000Base SX/LX (fiber) data interface.
Utilization of advanced 4th generation optical transmission technology operating at the 850 nm wavelength, providing better operating performance, excellent range and 'green' technology benefits. These lasers use approximately ten times less power than previous-generation 1550 nm wavelength systems, which makes them run much cooler and enhances reliability and product lifespan.
High-precision, superior quality German optical lenses.
Includes a radio which uses flexible 5.4/5.8 GHz frequencies for widespread unlicensed usage, and worldwide license-free optical free space spectrum.
Superior RF technology via both OFDM and 4 antenna/2x2 MIMO technology, for higher data rates and lower interference in congested areas.
Superior QoS due to Ethernet Port Flow Control and intelligent packet queuing, providing priority to voice/video traffic when switching to alternative RF path.
Channel Shifting operates at frequencies different from those used in unlicensed 802.11 networks, for increased security. Links are undetectable by most 5 GHz devices.
AES 256 RF encryption for optimum security.
The HyBridge SXR-5 is available through LightPointe's network of authorized channel partners and through the company's AirePointe Security & Government Solutions Division partners. LightPointe has deployed thousands of wireless bridges worldwide including the United States, Germany, France, Italy, Spain, Australia, China, the United Kingdom, Brazil and certain countries in Africa and the Middle East.
About LightPointe Communications, Inc.
LightPointe Communications, Inc. is a leading manufacturer of wireless Gigabit Ethernet bridges for telecom carrier and enterprise applications, with over 14,000 sites installed since 1998. The company offers the broadest range of 60 and 70/80 GHz backhaul solutions, Free Space Optics wireless bridges and hybrid optical-radios. LightPointe's AirePointe Security and Government Solutions Division is a provider outdoor Gigabit Ethernet products to military, municipality, state and federal agencies worldwide (camera backhaul, transportation monitoring, government wireless solutions). www.LightPointe.com
Contact
LightPointe Communications, Inc.
Todd Easterling
+1 858-834-4083
www.lightpointe.com

Contact