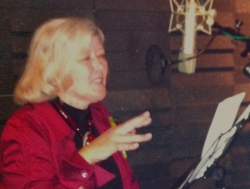 New York, NY, July 25, 2012 --(
PR.com
)-- Rhyming Tale of a Neglected House Narrated by Celebrated "House" Mom Pat Schroeder*
Jumping Pages, Inc., a children's mobile app developer, announces the release of its new interactive book app for iPad, "The House that Went on Strike," available now on the App Store. The app is narrated by former trailblazing Congresswoman Patricia Schroeder.
The original, rhyming tale teaches kids of all ages, and their parents, respect for the house. The app is filled with dazzling graphics, interactive components and a fresh musical score that accentuates the story of an errant family that pushes a house to the brink. The house and her appliances come to life, each with their own voices and sounds. In addition, kids can activate dozens of fun activities, including calling the house to strike, tossing bread from a toaster that bops dad's head, sliding the boy and girl down the steps, and prompting the family to finally clean the house.
With her aptly titled memoir "24 Years of House Work…and the Place is Still a Mess", mom and grandmother Pat Schroeder provides the fun-filled narration. This summer marks the 25th anniversary of the "House" Mom's historic consideration of a run for President.
"As a congresswoman, I often dreamed of leading my colleagues on strike against the messy House they created. Didn't happen and now it's even messier. Thus, I hope that the house in this story will inspire the House in Congress to take similar action," Schroeder remarked.
In addition, her involvement with the project marks Schroeder's first foray into interactive book apps. "As the former president and CEO of the Association of American Publishers, I'm thrilled to bring this story to iPad for all children to enjoy."
Smart Apps for Kids, a leading kids app review site called the book app "...a cute story...with great animation and even a theme song...former Congresswoman, mom and grandmother Patricia Schroeder...provides excellent narration..."
Jumping Pages founder and creative director Rania Ajami explained that the goal of the app is to teach kids about respecting their house in a fun, yet meaningful way. "As a mom, I know kids don't generally respond well to 'clean that up', so we thought illustrating how a house and all its objects might react to a mess, would be a clever way to get kids to do their chores," Ajami stated. "Giving life, personalities and feelings to the house and appliances allows kids to learn appreciation for the home in an interactive, sympathetic and playful manner."
Previously, Jumping Pages produced the critically acclaimed version of the David and Goliath story for the iPad that was narrated by 2006 World Series MVP David Eckstein.
A version of "The House that Went on Strike" will be available with a YogiPlay enhancement. YogiPlay is a mobile app platform that gives parents progress reports on their kids' app learning and educator-approved app recommendations tailored to each child's learning needs.
The House that Went on Strike App, and the The House that Went on Strike/YogiPlay enhanced are both available for $2.99 from the App Store on iPad or at
http://itunes.apple.com/us/app/house-that-went-on-strike/id543678181?mt=8
.
*Pat Schroeder, in deference to the victims of the recent tragedy in her beloved home state of Colorado, will be donating to candidates this election cycle who focus on increasing mental health access to Americans, banning assault weapons and plugging loopholes in U.S. gun procurement laws.