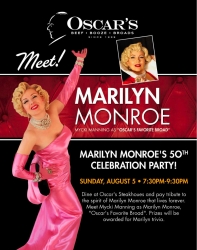 Las Vegas, NV, August 02, 2012 --(
PR.com
)-- Oscar's steakhouse at the Plaza Hotel & Casino and Mycki Manning as Marilyn Monroe will host the only Las Vegas commemorative party honoring the 50th year of life without the beloved icon. August 5th marks the historic date, and Oscar's is the perfect backdrop to throw a celebration party to pay tribute to the spirit of Marilyn that lives forever.
Las Vegas holds many wonderful stories about Marilyn, and Mycki will share those with guests as she mingles, sings and entertains as the "Broad" at Oscar's for the evening. Brush up on your Marilyn Monroe trivia because prizes will be awarded to guests who know the most about Marilyn.
With the tagline "Beef ∙ Booze ∙ Broads," Oscar's at the Plaza in downtown Las Vegas delivers mouthwatering steaks and handcrafted cocktails, including the specialty for the night—a "Marilyn-tini."
As the #1 photographic lookalike for Marilyn Monroe on the West Coast and as an International Artist, Mycki Manning has a variety of appearances scheduled to celebrate 50 Years of the Spirit of Marilyn. The party at Oscar's will be the final date for this landmark occasion.
The Spirit of Marilyn, a commemorative painting created by Mycki will be unveiled and on display. Limited edition signed and numbered prints will be available with 10% of the proceeds from the art sales to benefit the Southern Nevada Affiliate of Susan G. Komen for the Cure®
Live music featuring the vocal stylings of Mycki Manning as Marilyn.
Mark your calendar for this historic occasion and celebration of Marilyn Monroe
Sunday, August 5th, 2012
Spirit of Marilyn Party from 7:30pm - 9:30pm
Oscar's steakhouse- The Plaza Hotel & Casino - 1 Main Street - Las Vegas, Nev., 89101
For more information or to schedule an interview with Mycki Manning as Marilyn Monroe:
Contact Teri Alexander at LivingArtPR@gmail.com or (702) 808-1498
www.GentlemenPreferMarilyn.com
For dinner reservations at Oscar's steakhouse, contact (702)38-OSCAR or (702) 386-7227