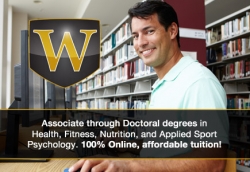 Rancho Santa Margarita, CA, September 12, 2012 --(
PR.com
)-- Former Division 1 college athlete, international presenter, author and consultant for elite and professional athletes around the world, Brad Jurica was recently selected as department chair for graduate programs in Applied Sport Psychology as well as professor for Wexford University. Wexford, a 100 percent online university, offers a variety of degrees in health, fitness, exercise, sports and nutrition.
In addition, Jurica is co-owner of Mental Training, Inc., a performance enhancement-based consulting firm that helps athletes, executives and performers strengthen their mental skills and access their performance zone.
"Brad's extensive teaching experience in psychology and sport psychology and his dedication to his students are second to none," said John Spencer Ellis, founder of the National Exercise & Sports Trainers Association (NESTA), which includes Wexford University as its higher education division. "And as a longtime member of the Surfrider Foundation and passionate surfer, Brad really knows how to calmly ride the waves with discipline and poise, making him the perfect person to work with both faculty and students at Wexford."
Jurica has a master's degree in Psychology from San Diego State University and has worked with a variety of Olympic, professional and elite athletes training in Southern California. He is one of the leading sport psychology consultants in the country and his mission is "to educate students on the power of the mind by increasing self-awareness, facilitating cognitive and emotional growth, and being a positive agent for change as he helps each student achieve his/her personal and professional goals."
Further, Jurica is a published author in a variety of peer-reviewed journals throughout the country as well as a member of Division 47 (Sport and Exercise Psychology) of the American Psychological Association and has served in various leadership positions within the Association of Applied Sport Psychology since 2002.
Wexford University offers degree programs including an associate of arts degree in Fitness Training, a bachelor of science degree in Health and Fitness, a master of science degree in Nutrition and Exercise, a master of arts in Applied Sports Psychology and a doctorate degree in Applied Sports Psychology.
About Wexford University
Wexford University is dedicated to providing world-class education through cutting-edge technology, offering direct application degree programs in an accelerated format with 100 percent online learning to save time and money. Programs include an associate of arts degree in Fitness Training, bachelor's degree in Health and Fitness, master's degree in Nutrition and Exercise as well as master's degree and doctorate degree in Applied Sport Psychology. Wexford University is the higher education division of NESTA (National Exercise & Sports Trainers Association). For more information, please visit
http://wexford.edu/
.