Joggers Gaining Sun Protection from Donated Vitamin E Sticks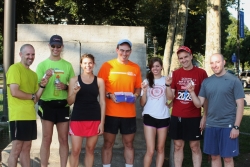 Haddonfield, NJ, August 23, 2012 --(
PR.com
)-- Joggers and walkers, especially those who participate in fund-raising events, and run-walk for personal health reasons, are receiving free, donations of Vitamin E Sticks useful to protect lips and eye areas.
The donations are part of the continuing community services of Reviva Labs (www.RevivaLabs.com), Haddonfield, N.J., manufacturers of the Vitamin E Sticks, and other skin care products.
The Vitamin E Sticks help protect from both Summer sun and cold Winter air.
It is in a lipstick-type tube.
"Cold winter air can produce dry, cracked lips and worse, exposure to sun can bring burns, especially to the lower lip," according to Steve Strassler, founder and President of Reviva Labs.
He is one of America's pioneer Aestheticians.
Reviva's Vitamin E Stick, found nationally in health food stores, cosmetic stores and some independent drug stores, contains the moisturizing and healing qualities of allantoin and Vitamin E.
Reviva Labs has almost 40 years of skin treatment ingredient research and experience.
The firm, over the years, has introduced more skin care breakthroughs than many of the well-known cosmetic giants.
For additional information on the program to donate Vitamin E Sticks to organized jogger clubs and related groups, contact: Reviva Community Services, 705 Hopkins Rd., Haddonfield, N.J. 08033; Tel.: 1-800-257-7774; Fax: 856-429-0767. (Note: Photo caption below.)
Note to Editor: A sample is being mailed to the Editor directly from Reviva Labs. Please let us know if there is a special name and address to whom an additional sample should be sent. Contact: Elena Cruz, American News Services, at 29 Bala Ave., Ste. 114, Bala Cynwyd, PA 19004; Tel.: 484-562-0060; E-Mail: adcomtimes@aol.com.
Photo Caption:
Philly Runners, an organization of several hundred Philadelphia-area joggers received donations of Vitamin E Sticks to protect their lips and eye areas from the sun and harsh outdoor weather conditions. The Vitamin E Sticks were provided as part of a continuing public service campaign by the skin care company, Reviva Labs of Haddonfield, N.J. Pictured are members of the organization. The Vitamin E Sticks are available to other similar groups, especially those involved in fundraising towards better health.
Contact
American News Services
Joe Ball/Elena Cruz
484-562-0060

Contact