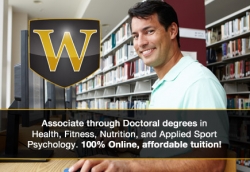 Rancho Santa Margarita, CA, November 12, 2012 --(
PR.com
)-- Everyone knows the words "last call." In this case, it's not last call for another drink, but to register for online classes in fitness training, nutrition, sports psychology and other health topics at Wexford University. Since early registration for U.S. and international students more than tripled expectations, Wexford University online is taking its last round of registrations this month. The online Wexford University offers associate through doctoral programs with self-directed learning and flexible scheduling.
Registration for online health and wellness degrees are still being accepted at http://wexford.edu/. The Wexford winter semester begins Jan. 7, 2013 and runs through mid-March. Classes are already nearing capacity, so registration for this semester will be closing early.
"We are thrilled that our accelerated and affordable degree programs have struck so much interest among people interested in a health and wellness career," said Jack Bauerle, Chancellor of Wexford University. "At Wexford, our online classes are convenient and flexible, and you never have to worry about a bad commute, a parking permit or expensive tuition hikes. Instead, you can focus on getting the best online education in your favorite health topic, so that you can boost your chances of finding your dream job."
Wexford University's online degree programs include: associate of arts degree in Fitness Training, bachelor of science degree in Health and Fitness, master of science degree in Nutrition and Exercise, master of arts in Applied Sports Psychology and a doctorate degree in Applied Sports Psychology.
Further, all military personnel receive a 15 percent discount on their health, fitness and wellness education through Wexford University online, and all students receive a 10 percent education when tuition is paid in full up front. Interested students can still complete an online application to register for 2013 classes at http://wexford.edu/.
About Wexford University
Wexford University is dedicated to providing world-class education through cutting-edge technology, offering direct application degree programs in an accelerated format with 100 percent online learning to save time and money. Programs include an associate of arts degree in Fitness Training, bachelor's degree in Health and Fitness, master's degree in Nutrition and Exercise as well as master's degree and doctorate degree in Applied Sport Psychology. Wexford University is the higher education division of NESTA (National Exercise & Sports Trainers Association). For more information, please visit
http://wexford.edu/
.