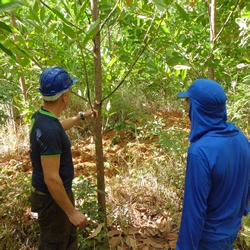 Porto, Portugal, October 11, 2012 --(
PR.com
)-- European forestry management company,
Greenwood Management
, is launching a new Brazilian project that will help the government reduce the country's huge housing shortage and produce strong returns for investors.
Today, over 7 million families in Brazil are without adequate housing. The government has pledged to build 2.4 million houses under its "My house, My life" Program by 2014. This will create considerable demand for eco-friendly timber as the main construction material.
Greenwood's latest Acacia Mangium Project is near to Baianopolis in Bahia State. Acacia Mangium, also known as white teak, is a top-grade, durable hardwood used by the Brazilian construction industry and ideally suited to the growing conditions in the Bahia state. The acacia timber is also sought-after by furniture-makers and used in the manufacture of the popular, high-value "white teak veneer."
Greenwood already has several acacia plantations of various sizes that are successfully maturing in Brazil's Western and Central Bahia regions.
By supplying the Brazilian internal market, freight and logistics costs are kept as low as possible.
For maximum efficiency, Greenwood will be using its own wood-processing center, creating added value to the lumber. This will also allow clients more exit options.
Key to success of the project is the research and development work carried out by the in-house Greenwood forestry specialists in partnership with UTAD (Universidad de Tras-os-Montes e Alto Douro), one of Portugal and Europe's top universities with a forestry and natural sciences focus. The university's forestry research and data has proven very valuable for the company's long-term planning.
Brazil's economy has been rapidly growing since 2002. It has now overtaken the UK as the world's 6th-largest economy, with no slowdown in sight. The country's affluent "middle classes" have expanded to a record 23 million over the past ten years and the Brazil government's housing policy is designed to bring more of its citizens out of the poverty zone.
Meanwhile, the price of high quality wood is expected to rise steeply over the next ten years - well above the inflation rate - as demand outstrips supply.
According to Greenwood Management's spokesperson, the company's goals are in exact alignment with government policy, which is good news for Brazilians and good news for investors. Returns for the Acacia Mangium Project are projected to be in excess of 14.5% per annum over the term with Investment levels starting at €7,628.
Greenwood Management are offering a forestry investment information pack
to potential investors.
View this press release on the company website
.