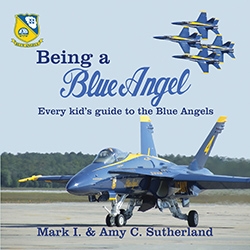 St. Louis, MO, November 05, 2012 --(
PR.com
)-- "As a child, I was inspired by military aviation," author Mark I. Sutherland said. "Today, with the help of the US Navy Blue Angels, I get to inspire kids across the US."
Sutherland's newest children's book, available on Veteran's Day 2012, takes children behind the scenes with the US Navy Flight Demonstration Squadron, the Blue Angels. "Being a Blue Angel" shows kids all the jobs the Blue Angels do, from the pilots to the maintenance crew, and more. And uses the real Blue Angels to inspire children towards science and math education, team sports, positive life choices and their dreams. This is the first book for children to ever take this approach.
"At every air show, hundreds of kids who would ask squadron members how they could someday be a Blue Angel," Garrett Kasper, former Public Affairs Officer for the Blue Angels, said. "It was a profound honor to serve as a Blue Angel, even though I wasn't a pilot."
While researching and developing "Being a Blue Angel" over a two-year period, Sutherland flew with the Blue Angels and spent time conducting interviews, gathering information, and capturing the team in action on video and in photos, at various locations in the US, including Naval Air Station Pensacola and Scott Air Force Base.
"Sutherland captures what steps aspiring youngsters should take, and explains the other surprisingly cool job opportunities in today's Navy," Kasper said. "Whether you wish to be a doctor, photographer, mechanic or a flight crewman, this book proves you can still do that and also be a Blue Angel."
"Being a Blue Angel" is also supplemented via the book's website at
www.BlueAngelsBook.us
with coloring pages, links and videos featuring the real Blue Angel team members and the Blue Angel aircraft in action.
"Being a Blue Angel" is available in print and e-book formats, beginning November 11, 2012, everywhere books are sold.
Sutherland is available for interviews. You can contact Dunrobin Publishing at 314.913.0674 or info@dunrobin.us.
Mark I. Sutherland has been writing for more than 20 years. He has two previously published books. His next book, "Santa Ate My Gingerbread House," is scheduled for release by Dunrobin Publishing on November 23, 2012. He is married with four young children, and lives near St. Louis, Missouri.
Dunrobin Publishing is a publishing company devoted to high-quality books that celebrate traditional values. You can find them on the web at www.dunrobin.us.