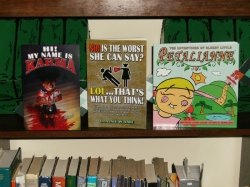 Toronto, Canada, December 07, 2012 --(
PR.com
)-- Graphic designer and entrepreneur Luanga A. Nuwame used to ponder about writing and self-publishing a book, but he never thought he would have it in him to create three distinct books over the course of just two months and then witness all three works climb Amazon's sales ranks within days of publication.
Between November and December, Nuwame has written and published a children's picture book, a relationship tome and a dystopian short story as a means to expand his literary aptitude and introduce readers to his unique brand of creativity.
Already ranked in the top 100 of Amazon's 'Fairy Tales, Folk Tales and Myths' children's book category is Nuwame's first picture book: The Adventures of Clumsy Little Petalianne. Inspired by the birth of his daughter in May, The Adventures of Clumsy Little Petalianne was originally part of an Indiegogo crowdfunding campaign that failed miserably (only 3% of the intended $10,000 goal was raised). Undeterred by the lack of funding, Nuwame self-financed his book and completed it with the help of his Washington State based artist George Leon. Published in late November, The Adventures of Clumsy Little Petalianne is meant to inspire and uplift young girls using fun and relatable stories and characters within a magical forest kingdom.
Nuwame's first relationship/dating book – entitled No! Is The Worst She Can Say? LOL…That Is What You Think! – was also published in November and is currently ranked in the top 300,000 books sold worldwide on Amazon (online estimates have total books available on Amazon at around 1.5 million). This particular relationship book is geared towards mature readers and written especially for introverted males (Nuwame himself is a self-described 'introvert'). No! Is The Worst She Can Say? LOL…That Is What You Think! is a first person narrative meant to share the hardships and learning lessons many men face in meeting women by providing real life stories about men who were rejected, embarrassed and abused by the women they approached with a simple "hello".
Recently launched on December 1st is Nuwame's first effort at writing a fictional horror/suspense short story. Already ranked in the top 300,000 books sold worldwide on Amazon is his book Hi! My Name Is Karma. This first entry, of an ongoing series, reflects the current American recession. It mixes in religious dogma, human greed and underworld crime to create a violent, disturbing tale of a supernatural little girl trying to destroy a global child smuggling operation.
Nuwame realizes Hi! My Name Is Karma is in the polar opposite direction from his Petalianne children's book. He wrote the short story in one day and felt compelled to tackle adult fiction as a way to expand his creative writing and potential audience.
"Each book I create is completely different from the rest," stated Nuwame. "I have fallen in love with expressing my creativity through writing and I enjoy sharing with readers what my crazy imagination conjures up. Amazon and CreateSpace have been amazing outlets that have allowed a novice like me to make self-publishing possible."
Nuwame isn't done creating books. He is currently working on a games/activity booklet, featuring his own line of unique brain-teasing games, slated for a late January release. A second Petalianne children's book is also planned, in addition to a Petalianne comic book series. Nuwame also has an ongoing comic book series entitled Paper Rock Scissors Wars about the classic hand game come to life in an intergalactic war. All Nuwame's books are self-published by his imprint Zelpha Comics and Publishing (www.zelphacomics.com).
Millions of people online already know the extent of Nuwame's penchant for manic creation through his award-winning You Tube cardboard crafting channel: The Homemade Game Guru. From a full-sized cardboard swimming pool to an attempt to make the world's largest board game single-handed, Nuwame has spent the last four years testing the limits of his ingenuity through 70+ videos seen over 2.5 million times. Publishing books is just another extension of his artistic journey.
The Adventures of Clumsy Little Petalianne and No! Is The Worst She Can Say? LOL…That Is What You Think! are available in both e-book and paperback editions on Amazon.com, CreateSpace.com and Zelphacomics.com. Hi! My Name Is Karma is available exclusively as an e-book on Amazon.com.
For more information visit www.zelphacomics.com. Media Contact: Lue Nuwame homemadegameguru@hotmail.com