Source-Omega Challenges All Algae Omega-3 Suppliers to Release Full Algae DHA Contaminant Profiles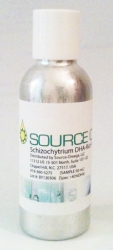 Chapel Hill, NC, December 20, 2012 --(
PR.com
)-- Source-Omega today released for public review their full nutritional and contaminant profile for SOURCE OIL™, the newest DHA algae oil supply to market. (http://www.source-omega.com/files/uploads/0B7704C3-F707-4E56-8672-302645CD7EC9.pdf)
SOURCE OIL is used in their PURE ONE® DHAlicious™ flagship product. PURE ONE had been an algae oil brand under another supplier until Dr Scott Doughman, Chief Scientific Officer and CEO at Source-Omega, assumed a leading position in quality and purity in early 2012 by independently commercializing a water extracted algae oil for DHA.
SOURCE OIL is made with two ingredients, 100 percent solventless extracted DHA algae oil and green tea antioxidants. "This is the first unblended pure algae oil product available. Other algae oil supply companies have introduced several other ingredients before formulators can use the algae oil DHA for their own products," said Doughman, a former NIH fellow in omega-3 research.
SOURCE OIL also offers a pure 99 percent triglyceride fraction. Doughman says that developments for pure scientific reagents are underway. Because water extraction does not strip off all lipids, only the triglyceride fraction is obtained. The rest of the extracted algae is then saved to make algae meal for animal feed with 18 percent DHA plus 8 percent protein, the company information says. The algae meal product is in the pipeline to be commercialized in 2013. For more information, please contact Dr Doughman at 919-360-5275. Dr. Doughman keeps a direct-contact open-door policy.
Contact
Source-Omega, LLC
Gene Wolf
919-360-5275
www.source-omega.com
11312 US 15-501 North, Suite 107-122
Chapel Hill, N.C. 27517, USA

Contact