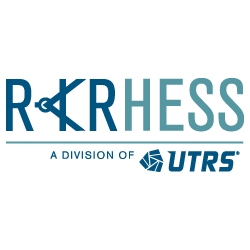 Cherry Hill, NJ, January 08, 2013 --(
PR.com
)-- Universal Technical Resource Services, Inc. (UTRS), a leading provider of engineering, information technology and communications services, today announced the release of new branding and a website for the RKR Hess Associates division it acquired in September 2012. UTRS Chief Operating Officer (COO) and General Counsel Marc Snyderman made the announcement.
After acquiring RKR Hess Associates, it was evident that a new branding image and website needed to be developed to better emphasize the varied services RKR Hess provides and bring them into the UTRS family. RKR Hess's original logo consisted of bold grey letters, set in a red rectangular box. UTRS's in-house branding experts designed a cleaner, more modern, dual-color logo that allows the typography to stand on its own. A line underscores the company name while linking the RKR Hess brand to its new parent entity, UTRS. This line, along with the typography, echoes the same ideas of structure the company prides itself on.
Along with a new look comes new imagery. The RKR Hess logo now contains a protractor turned on its side to represent the "K" in RKR Hess. For an engineering firm, this mark is a perfect addition to the logo. UTRS COO Marc Snyderman stated, "[a]s always, our Communications Team did an excellent job modernizing the RKR Hess logo and developing a clean, responsive website, while staying true to RKR Hess's longstanding tradition of integrity in engineering services."
Not only is RKR Hess introducing a new brand identity, it is unveiling a complete redesign of its website at www.rkrhess.com. Continuing with the same clean, modern look adopted for the logo, the new website is extremely easy for clients to navigate and has aesthetic elements like the blueprint background.
Sam D'Alessandro, Director of Civil Engineering Services added, "Our new logo and website are reflective of the synergies we are already seeing by becoming part of the UTRS family. We look forward to promoting our brand and utilizing our new website to better connect with customers and our community."
To learn more about UTRS, visit www.utrs.com. To learn more about the RKR Hess division, please visit
www.rkrhess.com
.
UTRS, headquartered in Cherry Hill, N.J., and with offices throughout the U.S. and internationally, provides a wide range of leading-edge scientific, engineering,, information technology and communications services to the public and private sectors, primarily the U.S. Department of Defense. UTRS is always thinking forward to deliver the most creative, high-quality, technology-based services and solutions to our customers on time and within budget.