Superior Grocers to Celebrate Store Re-Grand Opening and Fruits and Veggies Community Mural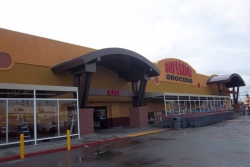 Los Angeles, CA, January 29, 2013 --(
PR.com
)-- Superior Grocers, one of Southern California's largest independent supermarket chains, will celebrate the re-grand opening of its newly renovated store in Los Angeles on Saturday, February 9, 2013. In conjunction, there will be a special celebration to recognize the first community mural project completed in collaboration with Councilwoman's Jan Perry's office, The Accelerated School and mural artist Andre Miripolsky.
"We have been part of this community for over 30 years and are excited to offer our customers a new and improved shopping experience with our newly renovated store," said Mimi Song, President & CEO of Superior Grocers.
The celebration will also serve to recognize the community efforts put forth by The Accelerated School – Wallis Annenberg High School students, Jan Perry's office and mural artist Andre Miripolsky. The "Fruits & Veggies" mural, was developed by the team to help promote health & wellness efforts and to beautify the surrounding community. As stated by mural artist Andre Miripolsky, "It was my great pleasure teaming up with the talented art students of Wallace Annenberg High School to create a public mural project with a positive and healthy message wrapped up in awesome wondercolor."
The recognition event will take place on Saturday, February 9, 2013 at 9:30am at Superior Grocers store located on 7316 S. Compton Ave, Los Angeles, CA 90001. Councilwoman Jan Perry will join the event to give special acknowledgment and promote health and wellness efforts in the community. The event will also offer free health services and health information to its customers throughout the day.
About Superior Grocers
Superior Grocers is a privately-held independent Supermarket chain serving Southern California with 39 stores in Southern California. It prides itself on providing Superior Quality, Superior Savings and Superior Value to the communities that it serves. Superior Grocers also believes in hiring from within its communities of service and to promote employees to management positions from within its own ranks. For more information about Superior Grocers, please visit www.superiorgrocers.com.
Contact
Superior Grocers
Raul Lopez
562-345-9000
superiorgrocers.com
Press Contacts:
Brenda Sarti – 562.345.9000
bsarti@superiorgrocers.com

Contact