Toad Teaches Youth with Autism and ADD to Learn; Children and Teens Smile as They Learn and Frustrated Parents Breathe a Sigh of Relief
Children with ADD, ADHD, Gifted Students, and Autistic children now have a place to go for Academic Tutoring and Social Skills services.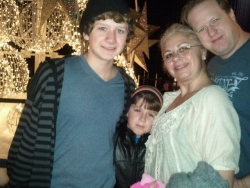 Grapevine, TX, February 05, 2013 --(
PR.com
)-- Academia Center 4 Tutoring, will celebrate its Grand Opening in Grapevine, Texas with a ribbon cutting ceremony on February 5, 2013 at 5:15 p.m. The center is located at 1000 S. Main Street, Suite 240, in Grapevine. Academia provides educational assistance to children with Autism, ADD, ADHD and learning disorders. Many children and teens struggle in school with one subject or another. When these young people suffer from Autism, Attention Deficit Disorder, or learning differences, those struggles become amplified. CDC studies show that 1 in every 88 children in the United States has a form of Autism Spectrum Disorder. Almost 7% of children have ADD or ADHD and almost 8% of children have a learning disability. In addition to educational challenges, such students often also experience bullying and awkward relationships with their peers and teachers.
"There are many options out there for tutoring the 'typical child'," says Letty Turkett, the founder of Academia Center 4 Tutoring. "However, families with a child who has Autism or a learning difference often cannot find the help they need. That's where we come in." Academia offers tutoring and study skills classes to all levels and types of students. Where other tutoring businesses are not designed to handle students with learning and behavioral differences, Academia specializes in helping them. Many of the Center's tutors and advisors hold teaching certificates which include special education certification. The center also provides anti-bullying social skills classes. These classes equip students who face social awkwardness and bullying with tools and skills to better understand and relate to their peers and teachers.
"We don't feel it is enough just to help a student master one class or topic," says Mrs. Turkett. "We prepare our students with learning strategies and life skills to help them succeed in school for the rest of their lives. Even more, we want to help them feel comfortable in their own skin and comfortable being who they are while they are in tutoring and when they go back to their classes." What about this toad? "Professor Toadie is our mascot," explains Mrs. Turkett. "He loves to learn. But he also loves to hop around and make people laugh. He symbolizes that you can learn even if you don't look or act like the 'typical' kid."
Academia Center 4 Tutoring is a multifaceted learning center dedicated to providing educational assistance to students that "don't fit the mold." In addition to tutoring and social skills classes for those with Autism, ADD/ADHD, and learning differences, Academia offers tutoring for advanced students seeking to work ahead of the class at school. Academia also offers proctored home school both at the Grapevine location and by web. Academia is owned by Letty Turkett and she can be contacted at letty@academiacenter4tutoring.com. Jill Embree is the education director. Cindy Justiss is the Director of Home School. They can be contacted at
manager@academiacenter4tutoring.com
. Academia Center for Tutoring is located at 1000 S. Main Street, Suite 240, Grapevine, TX 76051. Phone: 817-251-5874. It can be found on the web at
www.academiacenter4tutoring.com
Contact
Academia Center 4 Tutoring
Letty Turkett
817-251-5874
www.academiacenter4tutoring.com

Contact