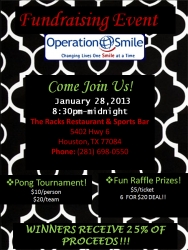 Houston, TX, February 06, 2013 --(
PR.com
)-- Every three minutes a child is born with a cleft lip or palate. As a marketing firm, we are reminded every day of how important a smile can be. For less than $240, Operation Smile is able to provide one child with both the surgery and necessary medical aftercare to fix their cleft lip or palate. In some third world countries, children with these deformities are considered outcasts and in some cases even shunned from their community. Here in the United States, cleft lips and palates are common occurrences that are immediately fixed, and rarely have and lasting repercussions. Being able to offer a child this surgery can dramatically alter their life and give them hope for the future. Since 1982, Operation Smile — through the help of dedicated medical volunteers — has provided more than 3.5 million comprehensive patient evaluations and over 200,000 free surgeries for children and young adults born with cleft lips, cleft palates and other facial deformities.
The charity event consisted of a water pong tournament and 50/50 raffle that offered an opportunity for coworkers and friends to support a great cause all while having fun in the process. After the prizes were handed out to the tournament and raffle winners, SEE Marketing was able to raise over $300 to donate to Operation Smile. In October, 2012, SEE Marketing hosted a smaller poker tournament in which all proceeds of $540 were donated to the Operation Smile foundation. Over the last four months, SEE Marketing has been able to raise enough money to complete three reconstruction surgeries to children in need.
A big thanks to the generosity of Donnie Navarette, Edward Hua, and Carlos for letting SEE Marketing host this special event at The Racks Restaurant and Sports Bar. SEE Marketing hopes to raise money for many more children this year with upcoming events. With your help and donations imagine the number of lives we can change for the better. If you are interested in attending future events or donating please contact Samreen Syed at careers@seemktg.com for more information.
Keep an eye out for future fundraising events on SEE Marketing's
website
.
Find out about professional opportunities on:
SEE Marketing's
LinkedIn
page and
Careers
page.