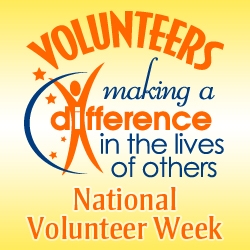 Hauppauge, NY, February 07, 2013 --(
PR.com
)-- National Volunteer Week is a time to celebrate those who give the greatest gift of all - themselves. This year National Volunteer Week is April 21-27, 2013. Volunteers don't ask for anything in return for their services, that's what volunteering is all about, which makes it even more important that their commitment doesn't go unnoticed. Take the time to recognize the dedication and timeless effort volunteers give to the organizations they support. It is their time and energy that makes a difference in the lives of others. Positive Promotions is happy to present a line of top-quality recognition products that can suit any appreciation event, big or small, simple or elaborate. Always keeping budgets in mind, Positive Promotions is pleased to be able to offer over 70 gifts for under $3.00.
Volunteers show acts of kindness year round. The least that can be done is to honor them during 1 out of the 52 weeks in the year. They are remarkable individuals who deserve recognition. Positive Promotions has hundreds of thoughtful products including dozens of new, affordable gifts and keepsakes. Offering everything from recognition certificates, to unique gift sets, and tasty treats, there is sure to be something that will elevate your celebration to a whole new level but keep your budget where you want it. Positive Promotions makes it easy to make your recognition gifts even more personal to your volunteers and your organization by adding custom messages to personalized gifts. Volunteers will be happy to receive such distinctive gifts and your organization will be proud to present them.
Inspirational themes like "Volunteers: Making a Difference In The Lives of Others" and "Volunteers Give The Best Gift Of All: Themselves" are offered on a large variety of gifts. From items to warm the belly like insulated tumblers, sip n' go's with treats, or a "Souper" mug with spoon, to items to warm a space like a tri-fold desk caddy or magnetic photo frames, to items to that can be appreciated in many different ways like pen gifts sets, tote bags, or key tags, Positive Promotions is sure to have just what your organization is looking for to show your volunteers how grateful you are to have them.
Not sure what you want to gift your volunteers this year? Positive Promotions offers free samples, providing you the opportunity to see what you might like before purchasing. Visit
positivepromotions.com/sample
or call toll free at 1-800-635-8666.
Positive Promotions is a budget-friendly, one-stop-shopping source for awareness and educational tools. It is a direct source that offers quality product at exceptional monetary value. Customers can order in 4 easy ways: online anytime at
positivevolunteers.com
, by calling toll free at 1-800-635-2666 to speak to with a knowledgeable customer service representative Monday-Friday from 8am-7pm EST, by faxing an order toll-free at 1-800-635-2329 anytime, or by mailing an order to Positive Promotions at 15 Gilpin Avenue, P.O. Box 18021 Hauppauge NY 11788-8821. To request a catalog visit the company website at
positivepromotions.com
and click the catalog request link.