Love Builder - a Relationship Building App for Couples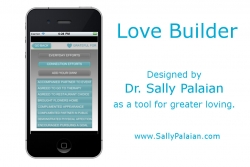 Detroit, MI, February 06, 2013 --(
PR.com
)-- Just in time for Valentine's Day, Dr. Sally Palaian launches a free and fun relationship app designed to help couples grow closer together.
Love Builder, a free app on iPhone® and Android™ helps couples grow their relationship together. The app provides fun and spontaneous opportunities for couples to play together as well as highlight each individuals efforts. As they play, couples earn points for completing tasks, and can use those points to build and furnish a virtual house.
Dr. Palaian, a relationship therapist and author, designed the app to teach self-awareness and to reinforce positive behaviors within a relationship.
"Developing an app allowed us to take many of the same principles we use in relationship therapy and put them into a format that is more familiar to a modern family," said Dr. Palaian, a relationship therapist who designed the app around many of the challenges and obstacles she sees through her psychology practice. "Love Builder will not be a replacement for therapy, but it does provide couples with a fun tool that can help bring them closer together and not take each other for granted."
The app has several major features to encourage ongoing positive action, including:
· Daily Spark: Daily ideas and actions to bring couples closer together
· Add-A-Brag: Tells your partner know when you've done something special for them and the relationship.
· Grateful For: Express appreciation for things your partner has done. Let them know which qualities and actions you really like.
As tasks are completed, you and your partner earn points that can be used to build your virtual home. Couples have the opportunity to add rooms, furniture, repaint and design the home to make it unique. Put your love into action building your home together.
"In addition to the real and positive changes actions can make, the app provides additional incentive for couples by also providing a fun virtual reward," Dr. Palaian said. "The virtual house in the app is reflective of a couple's relationship, and as it grows so too does the virtual home they build together."
Free Download for iPhone:
https://itunes.apple.com/app/id596011336
Free Download for Android:
https://play.google.com/store/apps/details?id=air.com.sallypalaian.lovebuilder
A video of the app can be previewed at: https://www.youtube.com/watch?v=SqxFA_4Ies4
Apple, iPad, iPod, and iPhone, are registered trademarks of Apple Inc. App Store is a service mark of Apple Inc.
Android is a registered trademark of Google Inc.
About Dr. Sally Palaian
Dr. Sally K Palaian has worked for over 27 years helping individuals, couples and groups overcome challenges related to addiction, relationships, finances, abuse and many other challenges. Throughout her career Dr. Palaian has authored al book and has been featured on CNN, the Wall Street Journal and several other prestigious publications. Dr. Palaian operates a therapy practice in Bingham Farms, Michigan and can be found at http://www.sallypalaian.com
Contact
Positive Self Center
Sally Palaian
(248) 645-5960
www.sallypalaian.com/

Contact
Multimedia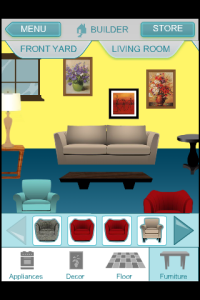 Showing the ability to spend the points earned in the app to build your virtual home.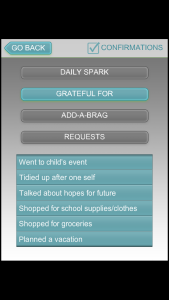 Showing a feature of the app in which you express gratitude for actions your partner has completed.