BANG® – as Official Energy Drink of NHL Florida Panthers & BB&T Center
It was just announced that VPX's BANG® will be named official energy drink of the NHL Florida Panthers and the BB&T Center, formerly known as the Bank Atlantic Center.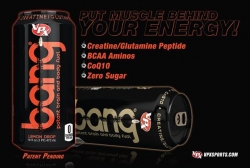 Weston, FL, February 07, 2013 --(
PR.com
)-- Since its' release in late 2012, BANG® has already captivated energy and health conscious connoisseurs country-wide. What was thought to be a new beverage concept has now developed into a cult-like craze. The high demand for the Bang beverage has peaked interest not only with consumers, but also with athletes looking to benefit from an intelligently designed hybrid sports nutrition / energy drink. It is attracting individuals seeking a soda-alternative free from toxic sugars with essential amino acids to fuel the body.
With the NHL Lockout now behind us, BANG® steps-in to help support the NHL Florida Panthers by becoming the team's official energy drink, as well as being named the official energy drink of the BB&T center. The Florida Panthers are set to start the season with a BANG – fueling their starting line-up with a scientifically engineered beverage containing patented novel water-stable Covalently Bonded Creatine/Glutamine Peptide, Caffeine, BCAA's (Branched Chain Amino Acids) and a patented encapsulated CoQ10. This out-of-the-box innovative approach has both the kinetic and potential fuel to induce and conserve energy. Unlike typical energy drinks, BANG® contains Jack Owoc's Patented Bioactive Creatine Species by fueling Bang® with a water-stable creatine to increase ATP (the body's energy 'currency') without carbs or other heath-robbing nutrients like sugar. Creatine, Glutamine and CoQ10 not only increase the rate at which energy is stored, but also help to produce energy by firing up the powerhouse in muscle cells called, mitochondria. This inner network of energy production and storage makes BANG® the perfect beverage to jump-start the Florida Panthers to victory.
Sports Performance & Energy
Typical energy drinks supply our body with sugar ignoring long term energy needs. Athletes and energy connoisseurs know that consuming sugar has a short term boost that soon crashes energy levels below baseline. They are well aware that you are not going derive an energy benefit late in the day or on game day in the fourth-quarter when needed most. BANG® is the first ever hybrid energy / sports drink that supplies energy right when the puck is dropped until a tie breaker in overtime.
Energy at the Cellular Level
BANG® also contains CoQ10 which is not only required, but, responsible for activating cellular energy. CoQ10 helps to optimize energy synthesis by protecting the integrity of the mitochondria necessary for maintaining energy production. CoQ10 is a non-polar compound which means it does not dissolve well into water. In addition, the non-polarity of CoQ10 correlates with the reduced bioavailability compared to water soluble compounds. In order to fortify with CoQ10, VPX® has partnered with VIRUN® and Specialty Products Division at Hormel Foods to combine a patented CoQ10 encapsulation technology exclusive to the BANG® formulation and composition. Having access to the patented technology for CoQ10 allows for a stable CoQ10 inclusion, clearer appearance and reduction in unfavorable flavor notes. The encapsulation technology is GRAS and patented.
Jack Owoc, CEO and founder of VPX/Redline stated, "VPX® has been the frontrunner in innovative product design and new scientifically proven approaches that deliver super-premium functionality.' Owoc passionately commands 'If it's broke – Fix It!' You have an antiquated energy drink segment that's broke. The ingredient profile was developed in the 1980's and the leaders in the category blindly knocked it off. These toxic liquid sugar delivery drinks needed to be fixed. That's exactly why we engineered BANG!. The media keeps talking about the high caffeine in energy drinks when, in fact, it's the high sugar content that's killing everyone! It's easy to create a life-sucking sugar drink to get a short-term effect. However, designing a truly performance based beverage is what makes BANG® a uniquely different drink. It took almost five years to be awarded the bioactive creatine patent that fuels BANG. This is what makes BANG provide a unique consumer experience that will be long remembered."
Experience the synergistic difference of BANG® yourselves, visit
www.vpxsports.com
About VPX Sports
VPX/Redline Sports Nutrition and Performance Beverages was founded in 1993 with one goal in mind: To produce the highest-grade, university proven sports supplements and performance beverages in the world. VPX delivered on its promise by funding over 17 landmark human subject studies at the top universities in the country including, UCLA, Florida State, Baylor, University of Southern Maine and Memphis University, College of New Jersey, FIU et al. VPX continues to update and release new nutrition products, proudly maintaining its distinction as the "Frontrunner in Sports Nutrition." VPX is orchestrated by the world's leading authority, author of Meltdown UltraGenomics and developer of performance enhancing supplementation and physique-altering nutrition, Founder and CEO, Jack Owoc.
About VIRUN
Food & Beverage Concentrates
VIRUN's Coenzyme Clear® and OmegaH2O® patented technologies encapsulate CoQ10 and Omega-3 EPA and DHA into water soluble, clear and shelf stable, safe ingredients. Marketed and branded under the FUXIONS™ brand of products by Specialty Products Division at Hormel Foods Corporation, the technology allows incorporation of nutrients such as CoQ10 and Omega-3 EPA & DHA into finished food and beverage products that were not able to be fortified before. VIRUN® has received several patents, notice of allowances and international patents surrounding its technologies.
For information regarding this press release, please contact:
David Stockhamer at:
david.stockhamer@vpxsports.com
954-641-0570
Contact
VPX Sports
David Stockhamer
954-641-0570
www.vpxsports.com
info@virun.com

Contact