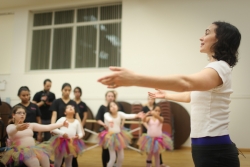 New York, NY, February 13, 2013 --(
PR.com
)-- Dancing Dreams founder and executive director Joann Ferrara named Jenifer Ringer, principal dancer with the New York City Ballet, to the advisory role of Artistic Consultant of the non-profit dance program that gives NYC/metro-area children with physical challenges a chance to dance. Ringer, a dancer with the New York City Ballet since 1989, first became aware of Dancing Dreams in 2009. She has been an enthusiastic supporter ever since.
Dancing Dreams started in 2002 when Ferrara, a pediatric physical therapist with a background in ballet, was inspired to make dreams of little girls who wanted to dance just like their friends, sisters, cousins and even their mothers. However, physical and medical challenges prevented these children from joining traditional ballet classes in their community. Dancing Dreams has grown from five girls to more than 65 (and growing!), ranging in age from three to 17.
"My admiration for Dancing Dreams and its mission began when I attended one of the Dancing Dreams performances and saw the joy beaming from the dancers on stage. Girls of all ages were overcoming their disabilities, defying the world's expectations, and performing on stage before their family and friends. The dancers' spirits were shining like bright lights as they moved to the music. I have rarely been so moved by a performance," Ringer said. "I'm thrilled to be helping in a more formal way."
On Saturday, February 16th, Ringer will host 72 Dancing Dreams students, their teen helpers and parents at the New York City Ballet performance of Sleeping Beauty. The field trip is part of the organization's mission to broaden the children's exposure to the Arts.
Ferrara added "It is an honor to have someone with such grace, style and passion involved with Dancing Dreams. When Jenifer visits our dance classes, our ballerinas grin from ear-to-ear because they know Jenifer is helping their dreams of dancing come true."
Ringer also will provide support to the Dancing Dreams dancers prepare for their annual ballet recital. Each year, they perform a full-scale, dance recital, complete with costumes, make-up and spectacular sets. The theme for the 2013 recital, which will be held, April 28th, will be announced shortly. Past performances have included the Once Upon A Time and The Nutcracker Suite. In addition, Dancing Dreams hopes to announce plans for Manhattan-based classes later this year.
About Dancing Dreams
Dancing Dreams, based in Bayside, New York is a 501 (c) 3 nonprofit organization and relies on charitable contributions for funding. Donations to the organization can be made online at dancingdreams.org or by calling Dancing Dreams at (516) 659-8704.