FixLogix Introduces New Modular Fixture System for Shop Floor Robotic Measuring Machines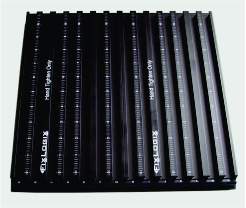 Olivet, MI, February 16, 2013 --(
PR.com
)-- FixLogix LLC introduces a new modular fixture system for staging parts on kinematic robotic measuring machines. These flexible robotic measuring machines improve productivity on the shop floor. The FixLogix t-slot style fixture plates have (3) spherical locators on the base, allowing the plate to be loaded and kinematically located on the RMM (Robotic Measuring Machine). The FixLogix system offers improved functionality and significant cost savings over the OEM fixture systems.
The new Latitude Zero kinematic fixture system for RMMs (robotic measuring machines) enhances automated dimensional inspection on the shop floor. The FixLogix modular fixture plate and kit allows rapid development of fixtures for measuring machines, which streamlines implementation for new programs. Repeatable positioning of the part in the measuring machine volume allows the measuring machine to reliably execute an automatic inspection sequence for dimensional process control on the shop floor. Swapping out fixtures to initiate multiple inspection programs can be performed by unskilled personal, due to the kinematic mounting system on the RMM and the FixLogix fixture plates.
The FixLogix t-slot technology simplifies part-holding fixture builds by providing multi-axis infinite positioning of locating components. This simplifies fixture construction by allowing the fixture to be "built to the part", with placement of locators where they don't interfere with datums or critical part features. The fixture plates feature laser marked reference scales to enhance repeat fixture builds.
The FixLogix component kit utilizes ¼-20 or M6 threaded components, and is cross-compatible with many other fixture systems. The setups can be tested and quickly modified if necessary, using the modular components provided in the kit. This reduces the fixture build timeline to hours instead of weeks. The economical price point of the FixLogix system justifies implementation of automated flexible gaging for a wider range of applications. The price for a kinematic plate is $350.00, and a component kit is $870.00; a typical semi-dedicated fixture can be built for $550.00 - $650.00 complete.
FixLogix LLC was formed in 2007 to produce and sell modular fixture systems for metrology, and other light duty part-holding applications. The company also produces modular fixture systems for CMMs (coordinate measuring machines), vision systems, optical comparators, and laser scanners. The company maintains an E-commerce website:
www.fixlogix.com
and accepts most major credit cards.
Contact
FixLogix LLC
Dan Smith
248-766-7087
www.fixlogix.com

Contact
Multimedia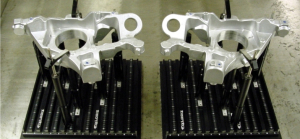 Semi-dedicated fixtures for automotive castings. Shown are right and Left hand versions of the part. These fixtures cost less than $500.00 each