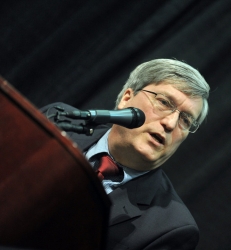 Huntsville, AL, March 05, 2013 --(
PR.com
)-- A new book published by MindBridge Press, A Time To Kill: The Myth of Christian Pacifism by Greg Hopkins, uses Scripture to show that the Bible endorses self defense.
Gun violence across our nation has stirred pacifists to call for State and Federal governments to confiscate firearms. This strikes fear in many who stand on the second amendment, which gives Americans the right to bear arms. These citizens warn that losing guns would leave their families defenseless against criminals. Nevertheless, anti-gun Christians pressuring Congress insist that the Bible teaches pacifism as the only moral response to hostile attack.
· Should law-abiding citizens feel guilt for protecting self and family from criminals?
· Should soldiers and police feel guilt for using deadly force on the battlefield and in the line of duty?
· Does the Bible teach pacifism as the morally acceptable response to criminal attack?
Greg Hopkins' new book, A Time To Kill: The Myth of Christian Pacifism, argues that the Bible does not teach pacifist principles as a moral response to criminal assault but in fact, teaches just the opposite in both Old and New Testaments, praising soldiers and law enforcement on numerous occasions and giving civilians explicit permission to use deadly force in life-threatening situations.
The author uses Scripture to demonstrate that the Bible commands Christians to be good stewards, prepared to protect self and the innocent from hostile attack. During an interview with MindBridge Press, Mr. Hopkins asked these compelling questions: "If the Bible commands such behavior, can defense of self, family, and those unable to defend themselves be immoral? If Christians are commanded to treat others as they want to be treated, would this not include protecting others from criminal attack?" He then postulated, "Perhaps Jesus Christ had that in mind when he instructed his disciples to acquire a sword before entering the mission field, even if that meant trading their cloak for the weapon."
A Time To Kill: The Myth of Christian Pacifism includes chapters about preparation for self defense, laws that govern self defense, understanding how criminals think, recovery from post-traumatic stress disorder (PTSD), biblical appraisals of military and police, arguments on criminal punishment, the death penalty, and much more.
Defense attorney, prosecutor, and former judge, as well as a practicing weapons instructor, expert witness, and Bible teacher, Greg Hopkins is highly qualified to address these controversial topics.
What readers are saying about A Time To Kill: The Myth of Christian Pacifism:
· "After reading the reviews of Greg Hopkins book, one could come to the conclusion that it was written for the Christian community only. In my opinion, regardless of your religious affiliation, this is a must read. It certainly would be an aid to anyone that may have personal problems because they have killed in self-defense or in the line of duty in the military. This book should be made available to any veteran who is suffering from Post Traumatic Stress Disorder as well as any medical person who treats this problem." by Barney Henderson: Reviewed in www.amazon.com
· "This book is tight. I'll be using it for a long time to come in my own speeches with his permission to brush up on all stuff related to the Bible and self defense. You can find it for yourself at bibleselfdefense.com." Kenn Blanchard podcast 305, the urban shooter, kennblanchard.com
· "My father and I bought this book at a gun show; I haven't put it down since. As a Christian and a gun owner I have thoroughly enjoyed and learned from this book. It is excellently written and an extremely easy read if you are at all interested in these topics." by K Davidson: Reviewed in www.amazon.com
· "I was on the fence... being a Christian, I always considered Christ to be a Pacifist. This book thoroughly debunks this myth for what it is. If you are on the fence like I was, this book is for you. If you have any questions about your responsibility as commanded by the Bible this book is for you. If you are simply an owner of a concealed carry permit this book is for you. It will answer your questions from every angle." by Dennis Harlan: Reviewed in www.amazon.com
· "I highly recommend reading this book. As a Christian, a Soldier, and a Martial Arts instructor, all of the information he presents in this book will educate you and ease your mind about defending yourself." by Heath Ferry: Reviewed in www.amazon.com
· "What I expected was a straight-forward explanation of the Biblical support for self-defense. A Time to Kill does not disappoint in this regard. It is thoroughly researched and footnoted, with extensive references ranging from Supreme Court rulings to the works of Massad Ayoob, John Lott to C.S. Lewis, Vine's Expository Dictionary to Dave Grossman, and Jeff Cooper. I had done my own research but nothing as thorough as Hopkins' work. I was really amazed at just how much the Bible can teach us about self-defense and the just use of force. It would make an excellent group Bible study and I personally used it in study with my family.
"What surprised me (pleasantly) were the chapters which strayed from Biblical interpretation and instead dealt with training and legal issues. Much of the book reads like a self-defense training manual, written from a Biblical perspective. There are chapters about preparation and mindset and awareness, pepper spray and other less-than-lethal defensive options, the law and judicious use of force. For the Christian who is interested in purchasing a firearm for home or self-defense or in getting a concealed carry permit, this book should be required reading. To my friends who are new to guns and self-defense I used to recommend Massad Ayoob's In the Gravest Extreme. I now recommend this book as well." by Lloyd Bailey, The Armed Lutheran: Reviewed in www.armedlutheran.us
Order A Time To Kill: The Myth of Christian Pacifism from Amazon www.amazon.com or from www.bibleselfdefense.com. Contact Greg by e-mail at info@bibleselfdefense.com.