Beach Organics Recognized as One of 100 Most Admired Entrepreneurial Businesses
Beach Organics recognized as one of the 100 Most Admired Entrepreneurial Businesses by Space Coast Business.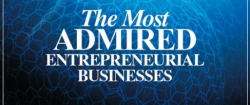 Cocoa, FL, March 05, 2013 --(
PR.com
)-- Beach Organics Skin Care, a Brevard County, Florida, manufacturer of organic bath and body products, has been recognized as one of the 100 Most Admired Entrepreneurial Businesses by Spacecoast Business magazine in its March 2013 issue.
In their magazine, Spacecoast Business says they believe that the country's entrepreneurs are an imaginative and dynamic force, admired for their ability to overcome obstacles and persist in turning a vision into a successful enterprise. The widely-circulated business magazine also recognizes others who devote time and resources to local charitable organizations to improve the lives of others.
Susan Moore, president and founder of Beach Organics Skin Care, has accomplished both. Her organic skin care products business, located in Cocoa, Florida, has become a thriving enterprise, manufacturing and selling
organic, non-toxic skin care and bath and body products
nationwide. At the same time, she has generously provided both donations and volunteer time to organizations such as the Space Coast Cancer Foundation, the Space Coast Ovarian/Gynecologic Cancer Alliance, Breast Friends of Brevard, Serene Harbor women's shelter, the Community Services Council, the Ovarian Cancer Center, and the Space Coast Center for Women with Children.
"No matter how rewarding it is to succeed with a skin care products company in this competitive business environment during challenging economic times, what is most important to me is making a difference in the lives of women who have been afflicted by breast cancer or other disease, and to do what I can to offer support, love, and compassion to help them make it through difficult times," said Moore.
Beach Organics Skin Care products are formulated without sulfates, BPA, phthalates, parabens, talc, artificial fragrance, SLS, or other harmful or potentially toxic ingredients. The woman-owned company manufactures a full range of organic and all-natural bath and body products, including organic soap, deodorant, sulfate-free herbal shampoo and hair conditioner, body powder, lotions and creams. The California Certified Organic Farmers organization has certified that Beach Organics Skin Care has fully satisfied the national organic standards established by the United States Department of Agriculture.
Contact
Beach Organics Skin Care
Susan Moore
321-639-4902
www.beachorganicsskincare.com

Contact