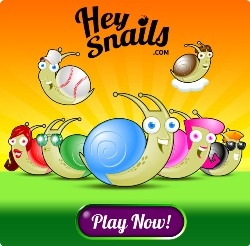 Pacifica, CA, March 17, 2013 --(
PR.com
)-- Touted as the "world's largest and longest-running professionals-only game industry event," the Game Developers Conference (GDC) is a market defining conference that attracts over 22,500 attendees – and this year, Hey Snails Inc. is one of the exhibitors.
Happening on March 25-29 in San Francisco, GDC 2013 will have 400+ conference sessions covering a wide range of topics such as game design, monetization, free to play and mobile engagement. This year's Advisory Board includes experts from Microsoft Studios, Blizzard Entertainment, Media Molecule, Signia Ventures and Zynga, among others. Other exhibitors include Sony Computer, Intel, Nintendo and Paypal.
Exhibiting at the conference for the first time, Hey Snails Inc. will showcase its flagship product, Hey Snails Virtual World, a fun and safe virtual world for kids where they can chat, hang around, make new friends and play. Aside from its goal of kid-friendly gaming and entertainment, Hey Snails also carves a niche in a market that craves for a platform that lets kids, be kids. Another Hey Snails Inc. product, Letter UP, a multiplayer crossword game played in real time, will also be launched and showed to the public for the first time during the event.
Hey Snails founders Harold Khan and Redentor Quiambao will be present at the five-day conference manning the booth and meeting with peers in the industry.
"We are thrilled to take part in this year's conference not only because we have unique and exciting products to offer, but because this is a great opportunity for us to share knowledge with the 'big boys' and update ourselves with the dynamics of the industry," says Red Quiambao, an ex-Zynga engineer himself.
Indeed the dynamics of the industry seem to be working in Hey Snails' favor. According to the Online Casual and Social Games Trend Report released by NewZoo, an international market research firm, Online casual and social gaming takes 39% of all 215 million hours spent on gaming each day in the US alone. 87% of all 145 million US gamers aged between 10 and 65 play on casual websites and social networks. This statistics lumps together casual gaming under one category and does not differentiate between a parent-approved social network and a typical social network where just about everybody can login and socialize. This "parent-approved" niche is what Red and his co-founder Harold is trying to carve.
Considering the bright outlook that's shaping up for Hey Snails Inc., are the founders Red and Harold ready to entertain angel investors and VC's who will surely be coming in droves at the event hunting for the next game-changing product to bet on? "Our focus is really on game development and making our products totally awesome. If there are investors out there who share our vision, we'll be happy to talk," say the beaming partners.
You can visit Hey Snails at GDC Play, Kiosk 63, South Hall, Gateway Ballroom Global Developers Conference 2013, Moscone Convention Center, San Francisco at the following times: March 26: 10am-4pm; March 27: 10am-6pm; March 28: 10am-6pm.
To request for a meeting, email redentor@heysnails.com. You can also visit www.heysnails.com for more information.