New Plush Toy Cures the Smelly Gym Bag, Proceeds Benefit Duchenne Muscular Dystrophy Charity
Family invents odor-eliminating toy to "Get the ShtankOut," while funding research for deadly disease.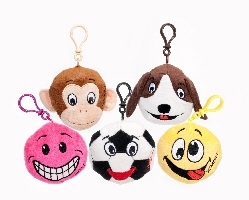 Chicago, IL, March 26, 2013 --(
PR.com
)-- Miracle Monkey, Funny Face, and their adorable plush odor-eliminating pals have hit store shelves in an effort to help find a cure for Duchenne Muscular Dystrophy (DMD).
ShtankOut owners Marty Karlin and his wife Geri brought the family-invented plush collectibles to market as a way to raise funds for Duchenne research, after their 10-year old son Ryan was diagnosed with the devastating disease.
Duchenne is the most common and lethal form of muscular dystrophy, affecting 1 in 3,500 boys worldwide. There is currently no cure or treatment for the disease, in which the muscles wither away, rendering the individual unable to move their legs, arms and hands, eventually attacking the heart and lungs. Boys with Duchenne typically become wheelchair dependent before age 13, with few living beyond their mid-20's.
"As I watched my son's muscles continue to weaken, it became my life's work to increase public awareness and help in any way possible to fund research for this tragic disease," says ShtankOut owner Marty Karlin. "My family came up with a fun product that solves a smelly problem, and through our donation of proceeds from the sale of ShtankOut for DMD research, we hope to help find a cure that's so desperately needed."
ShtankOut's ingenious design starts as a cute, fun collectible for kids, but goes a step further with odor eliminating properties that get rid of foul odors and funky smells in everything from sports bags and backpacks to lockers and more. It's a must-have toy for kids and a breath of fresh air for parents.
ShtankOut is available in five fun characters, each with their own uniquely fruity scent, including Passion Fruit, Cherry, Fresh Lemon, Blueberry and Orange. They contain eco-friendly, non-toxic odor eliminating plastic beads that have been rigorously tested for safety.
For kids ages 3 and up, each ShtankOut retails for $5.99, and is available at Chicagoland Walgreens stores, specialty toy and gift stores, and Amazon.com. To learn more, please visit www.shtankout.com.
For more information, please contact Mary Kay Russell at marykay@shtankout.com or phone 630-661-3541.
About ShtankOut LLC
ShtankOut LLC manufactures a product line of odor-eliminating plush collectible children's toys as a way to help fund research for Duchenne Muscular Dystrophy. Company owners and ShtankOut inventors Marty and Geri Karlin also founded Rally for Ryan – a non-profit organization dedicated to raising funds for DMD research, helping those afflicted with DMD live longer, healthier lives, and ultimately finding a cure for the fatal disease that affects 1 in 3,500 boys worldwide.
Contact
ShtankOut, LLC
Mary Kay Russell
630-661-3541
www.shtankout.com

Contact