Engineered Software Releases New PIPE-FLO Version 12
Engineered Software, Inc. has announced the availability of the latest release of its flagship piping system design software, PIPE-FLO Professional 12.

Lacey, WA, April 06, 2013 --(
PR.com
)-- Beginning February 28, consumers will be able to utilize the enhanced user experience that PIPE-FLO Professional 12 has to offer, including a new fully customizable user interface and a wide range of workflow improvements.
"This is more significant a release than a few new features and buttons, it's a rethinking of how the PIPE-FLO program can fit into our customer's job. This rewrite is more than two years in the making and a complete overhaul of the software's programming code as well as user interface, will come as a welcome surprise to some of our long-time users," says Michael Blondin, Chief Operating Officer at Engineered Software. "The program rewrite allows improved program release scheduling as well as more flexibility in adding new features in the future and opens up increased program integration opportunities."
PIPE-FLO Professional 12 features an entirely new dynamic Start Screen that gives one-click access to the most recent documents, tools and announcements users care about most. Creating a new piping system model can now be started without first entering technical design data. New licensing management has also been introduced to increase security for customers.
"Each change made to the workflow and user interface was based on years of feedback and research from our customers and support engineers. We took into consideration how our customers preferred to use the previous versions and how they perform their jobs. I think we have created the most intuitive version of PIPE-FLO product yet," says Christy Bermensolo, Vice President of Engineering for Engineered Software, Inc. "It has never been so easy to create a system from scratch!" she said excitedly.
PIPE-FLO Professional 12 is Customizable
· New User Interface. The PIPE-FLO Professional 12 interface is fully customizable with moveable and dock-able windows.
· Custom Printed Reports. PIPE-FLO Professional 12 has a new Report Designer and comes with 6 standard reports.
· FLO-Sheet Text. Now all text on the FLO-Sheet can be adjusted to fit your needs, including Font, Style and size for individual items or system wide.
· Password Protection. PIPE-FLO project files can now be password protected and opened in both the Demo and Full Versions of the software. The Viewer program will no longer be needed to create "View-only" projects for sharing.
· Default Project Files. Create and save default project files to streamline the creation of new piping system models.
· DataLink Export. Export model information to any application that can read ODBC databases.
· Change System Units Anytime. Piping system model units can now be changed at any time during the design process and all unit conversions adhere to NIST.
PIPE-FLO Professional 12 is Intuitive
· FLO-Sheet Functionality. The familiar FLO-Sheet in PIPE-FLO Professional 12 may look untouched, but is truly the next generation in PIPE-FLO modeling. Copy and Paste, Group Select and Group Edit all mean that designing a system is a snap.
· Streamlined Pump Selection. Integrated pump selection is now completed in fewer steps, meaning a system designer can work even faster and access the largest pump database in the world directly through the PIPE-FLO Professional 12 program.
· Property Grid. The new Property Grid in PIPE-FLO Professional 12 streamlines design data entry and minimizing the dialog boxes found in earlier versions. Here users can view calculations results, change device data, adjust text settings, modify symbol settings and create notes.
· Messages Window. All the calculation messages and warning are now available in one accessible location and include full details to easily identify and resolve issues within the piping system model.
· List View Window. Keep all system design information in the forefront.
· Dynamic Interaction. The information between the FLO-Sheet, Property Grid, message Window and List View Window keeps the focus on the selected device in the piping system.
· In-depth Help File. PIPE-FLO Professional 12's Help file is more than just a place to go for assistance. The new Help File includes details about the programs calculation methodology and tips for using expanded DataLink functionality.
Updated Calculations in Accordance with Current Industry Standards.
· IEC 60534-2-1 (2011) Industrial Process Control Valves – Flow Capacity – Sizing Equations for Fluid Flow under Installed Conditions
· ANSI/ISA-75.01.01-2007 Flow Equations for Sizing Control Valves.
· ASME MFC-3M-2004 Measurement of Fluid Flow in Pipes Using Orifice, Nozzle, and Venturi
· Serghide method used to calculate the pipe friction more accurately over a wider range of Reynolds Numbers
· Crane Technical Paper No. 410 (2012) Flow of Fluids Through Valves, Fittings and Pipe
· NIST Special Publication 811 (2008) Guide for the Use of the International System of Units (SI)
PIPE-FLO Professional 12 will be available for download and upgrade from the Engineered Software, Inc. website www.eng-software.com/demo and will be available in two versions, Stand Alone and Network for large organizations. Consumers can go to www.eng-software.com/products/pipeflo/professional/ for more information and a full list of feature upgrades.
Additional PIPE-FLO Professional Version 12 Information & Resources:
• Download the Demo - www.eng-software.com/demo
• Preview Video Available here: http://eng-software.com/video/PF12Features/
• Free Live Web Demo – Contact sales@eng-software.com for more information.
About Engineered Software, Inc. (www.eng-software.com)
Founded in 1982, Engineered Software, Inc. has created products known worldwide for high end-user satisfaction rates. The company has two award-winning product lines – PIPE-FLO and PUMP-FLO Solutions. Recognized as the best in the industry, the programs' interface was developed and refined based on over 30 years of customer feedback. Engineered Software is also the creator of Flow of Fluids Premium software, and holds an agreement with Crane Valve North America to produce, market and sell their Technical Paper, TP410. Engineered Software, Inc. has more than 5,500 clients worldwide across a variety of industries including aerospace and defense, chemical processing, engineering design and consulting, food and beverage, oil and petrochemical, mining and metals, pharmaceutical, power generation, pulp and paper, waste water collection and treatment and education.
Contact
Engineered Software, Inc.
Natalie Jensen
360-412-0702
www.eng-software.com
Twitter: @EngSoftware
Facebook: www.facebook.com/EngineeredSoftware

Contact
Multimedia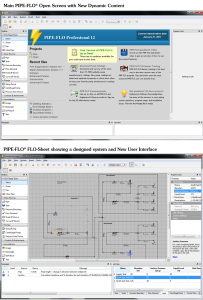 Two images showing the New User Interface and New Dynamic Content Menu in the PIPE-FLO Professional 12 software release.