Pennyroyal Studio and Autism Speaks Release Puzzle Piece Charm
Pennyroyal Studio and Autism Speaks announce collaborative sterling silver Puzzle Piece Charm to benefit Autism Speaks.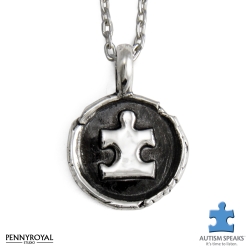 Los Angeles, CA, April 23, 2013 --(
PR.com
)-- Pennyroyal Studio and Autism Speaks announce the release of the Puzzle Piece Charm, the first of several upcoming, limited edition, collaborative designs benefiting Autism Speaks. Pennyroyal's many charitiable collaborations have raised over $220,000 for various charities since 2009.
The uni-sex Puzzle Piece Charm will be available to order through April 30th, with proceeds benefiting Autism Speaks. The handcrafted sterling silver puzzle piece design is available on both sterling silver chain and black leather cord and features Pennyroyal's signature imperfect style. The Autism Speaks logo and slogan, "It's time to listen" are engraved on the back. Prices range from $60 to $80. This design will be available for purchase exclusively through
www.pennyroyalstudio.com
through April 30th 2013.
"We are thrilled to collaborate with Pennyroyal Studio on this uniquely branded Puzzle Piece Charm, and are grateful for their contribution during Autism Awareness Month," said Matthew Asner, Executive Director for Autism Speaks® Southern California.
Autism Speaks is the latest of many charities to have worked with Pennyroyal Studio in releasing handcrafted charitable designs. The Puzzle Piece Charm is the first release from the collaborative collection which will feature different Autism Speaks inspired jewelry designs throughout the year. Pennyroyal's designer, Tim Foster says, "Some of the first custom designs I ever created were for friends who have children with autism, and over the years I've been involved with a few specialty projects for autism-related causes. I've met some amazing people through all those experiences and it's an honor to be working directly with Autism Speaks to help make a difference for them and their families."
About Pennyroyal Studio: Pennyroyal Studio, the Los Angeles-based brand, was founded in 2006 by former music industry professional, Tim Foster. While creating a memento for his girlfriend, Foster discovered his love of designing jewelry and conceptualized his first collection of pendants. Despite the growth of the Pennyroyal Studio brand over the past 6 years, each collection continues to feature Foster's signature artisanal flare and handcrafted appeal that launched the successful jewelry brand. Pennyroyal Studio's designs are inspired by music, moments in Foster's life, and a desire to create designs that have a positive impact on each individual customer and the charities that benefit from them.
About Autism: Autism now affects 1 in 88 children in the United States, including a shocking 1 in 54 boys, and is the nation's fastest-growing serious developmental disorder, more common than pediatric cancer, diabetes, and AIDS combined. Five children per hour are now being diagnosed with this lifelong, neurobiological disorder that impairs, often severely, a person's ability to communicate and relate to others. Despite these alarming statistics, autism receives less than 5% of the funding of many less prevalent childhood diseases.
About Autism Speaks: Autism Speaks was founded in February 2005 by Bob and Suzanne Wright, grandparents of a child with autism. Since then, Autism Speaks has grown into the world's leading autism science and advocacy organization, dedicated to funding research into the causes, prevention, treatments and a cure for autism; increasing awareness of autism spectrum disorders; and advocating for the needs of individuals with autism and their families. To learn more about Autism Speaks, please visit www.AutismSpeaks.org.
MediaContact for Pennyroyal Studio:
press@pennyroyalstudio.com
For Autism Speaks:
nikki@coteriemedia.com
Contact
Pennyroyal Studio
Tim Foster
909.305.9100
www.pennyroyalstudio.com

Contact