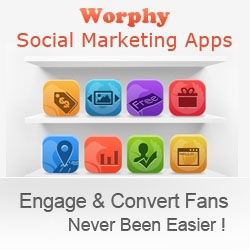 New York, NY, June 11, 2013 --(
PR.com
)-- Worphy the social marketing solution provider (
www.worphy.com
) announces the addition of Photo Contest App to its suite of social marketing tools. Worphy offers one stop solution for organizing a successful social marketing campaign with over 20 apps like Referral, Surveys & Polls, Sign Up, Sweepstakes, Photo Contest etc. The campaign running on different social media platforms like Facebook, Twitter and Instagram etc can be viewed, monitored and analyzed from a single user interface.
The Photo Contest app is a popular tool to engage with fans in which anyone can sign up and upload their favourite photos onto a Facebook page. Viewers can share the photos with others and also vote on their choice of the best photo within the specified timeframe. The photo with the majority votes wins the prize. Fans can submit entries from anywhere – through laptops / desktops or mobile devices. Travel photos for example can be submitted while on the go. The software has built in security feature that prevents multiple voting for a contest by an individual fan.
Fans are also incentivized through gifts / prizes and are tempted to compete again and again. Thus the app can quickly add to the subscriber base of a Facebook page and also increase the no. of "Likes" through the "Like gate" which makes every participant to click on the Like button before submitting entries. Thus it is a win-win situation for both participants and marketers.
Everyone likes viewing good pictures and share it with friends and family. Adding comments makes sharing even more interesting. Photos generate most Likes and comments on Facebook than any other type of content. Thus the viral nature of photos further adds to the fan base. All in all, Photo Contest is a useful app that social marketers cannot afford to give a miss.
About Worphy
Founded in 2010, Worphy is a social marketing platform from Hytto Software originally started from Hong Kong. The platform provides over 20 apps which allow brands/companies to effortlessly run professionally designed social promotions in a few steps. The basic plan starts from $0.99 per day that allows the unlimited usage over all the social marketing apps.