Basq Skin Care Introduces a New Lavender Soy Candle
Basq skin care introduces a new Lavender Soy Candle to the Aromacology Spa line. The clean buring soy wax infused with lavender essential oil offers pregnant and new mothers a fresh way to relax and soothe the senses. The frosted glass globe has a beautiful, modern appeal. The candle when unlit can be used to freshen the room. Basq's newest addition brings the benefits of Lavender to the home with ease and beauty.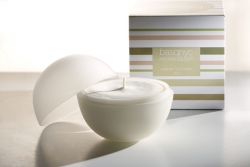 New York, NY, August 27, 2007 --(
PR.com
)-- Basq Skin Care, the leading luxury skin care brand for expecting and new moms, introduces a new addition to its sister line BasqNYC Aromacology Spa Treatments. Basq's new Lavender Soy Candle offers a perfect way to soothe and calm the senses. Lavender has been used throughout time to reduce stress, promote relaxation and a greater sense of well-being. Blended into rich soy wax, the lavender aromatherapy soothes and refreshes the mind.
Basq's Lavender Soy candle can be used to freshen the air both as it burns or simply open without lighting. The relaxing aroma of the Lavender diffuses within the room. Real Lavender, as used in this product, is a proven sedative that helps reduce tension, ease stress and relax the mind and body. Lavender is wonderful for helping both adults and children relax, soothe and sleep. For the pregnant or new mother, this candle offers an easy way to bring the Spa Home. This candle can be enjoyed while soaking in the bath or steam shower. When trying to relax or before bed, diffuse the scent of Lavender for better sleep.
Housed in a frosted glass globe, the basq candle's unique packaging is both functional and beautiful. Each hand poured candle casts a soft glow from the frosted glass. The removable glass lid helps preserve the Lavender aroma between uses and brings a touch of modernity to a classic beauty. The glass is environmentally friendly as glass is easy to recycle. Soy offers an alternative to paraffin candles as Soy wax is made from soybeans and vegetables, both renewable resources. Soy wax burns much cleaner and purer as it is all natural. Paraffin wax has been shown to leave residue chemicals that are believed to be carcinogens. The Soy Wax is biodegradable and non-toxic. This 6.oz candle's burn time is approx. 30 hours.
About basq
Launched in early 2005, basq's luxury skin care and gift sets are the exclusive maternity line carried online by Neiman Marcus, Saks Fifth Avenue and QVC. The brand retails across the U.S. in high end maternity and skin care boutiques including Pea in the Pod and BabyStyle. Internationally, basq is available in upscale boutiques and department stores in Canada, France, Japan, Singapore and the UK. It will be launching in Malaysia in early 2008.
Beauty's leading Super Models Heidi Klum and Christy Turlington are among basq's many celebrity fans. Basq was also the exclusive women's skin care in the goody bag at Sheryl Crow's Green Baby Shower and Joely Fisher's Celebrity Baby Shower. Basq has been chosen as one of Frommer's Best Brands in the World for their coming 2008 Shopper's Guide and was selected for the W Hotels' Expecting Parents Vacation Package. Just a few of the celebrities that we know have received basq gifts include: Angelina Jolie, Brooke Shields, Gwyneth Paltrow, Linda Evangelista and Poppy Montgomery.
All basq products are tested for allergy and sensitivity with zero tolerance. Hundreds of doctor and midwife practices around the country have provided basq to expecting moms.
At basq, the guiding belief is that throughout each stage of her life, every woman should basq in each moment… it's hers to enjoy.
For more information on the brand, please visit
www.basqnyc.com
.
###
Contact
basq skin care
Lauren Parisier
888-422-7775
www.basqnyc.com
Kelli Kenny

Contact