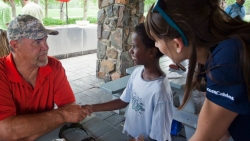 Denver, CO, June 28, 2013 --(
PR.com
)-- comCables, a Denver-based structured cabling manufacturer, raised more than $26,000 for the inner-city youth non-profit organization, the Sun Valley Youth Center. On Thursday, June 13, comCables hosted its 11th Annual Charity Golf Tournament. Alongside business and community partners, they helped raise the highest level of donations to date for the Sun Valley Youth Center.
"We are so grateful for the amount of support we had this year from golfers and sponsors," said Mike Capulli, comCables Vice President of Sales. "It was wonderful to see our customers, partners and friends all come together to support such an important need. This allowed us to work together to raise $27,000 for programs and the kids of the Sun Valley Youth Center."
Each year the comCables Charity Golf Tournament is hosted at Fox Hollow Golf Course in Lakewood, CO and attracts a generous pool of sponsors and golfers. This year 30 sponsors contributed to the tournament; a few of the major sponsors included Tri-Ed Data Solutions Center, 1st Bank, CoBiz Magazine, Hinton Electric Corp, Dixon Golf, Brother, Christ Church Denver, and CEAVCO. Former Broncos Offensive Lineman, Dave Studdard, also made a celebrity appearance to sign autographs and support the youth center.
"comCables has been with us for close to 4 years, and we appreciate all the support and generosity they have given the Sun Valley Youth Center," said Kris Rollerson, Executive Director at Sun Valley Youth Center. "The money we raise at the golf tournament thanks to comCables, sponsors and golfers allows us to help so many kids in Denver. We couldn't do what we do without them."
"Our mission at comCables is to serve and empower our customers, constituents and communities, so giving to charity is part of who we are." Capulli said.
About comCables
comCables, a Tier 1 manufacturers of structured cabling, is headquartered in Denver, Colorado. comCables manufactures a complete end to end solution of copper and fiber structured cabling products. comCables products range from Residential to Enterprise systems while focusing on standards based performance. They exceed TIA code and standards and meet all ETL and UL certification requirements.
http://www.comcables.com/
Contact: Kolleen Davis (303) 952-1800
kolleen@comcables.com