Regal Robotics, "There's a Robot in my Garage!," 5-Axis CNC comes home
Donnie Weir of Regal Robotics is designing and building a Large Scale 5-Axis CNC Router in his home garage with hopes of bringing 5-Axis capability to the mainstream for hobbyists.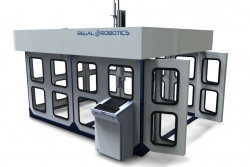 Plano, TX, July 09, 2013 --(
PR.com
)-- Donnie Weir of Regal Robotics has been spending the past year and a half designing and building a Large Scale 5-Axis CNC Router in his home garage in a suburb of Dallas. The original intent was to build something he could use to carve molds for composite automotive body panels, but as the project progressed the vision changed. Now Regal Robotics intends to help other small businesses and individuals get into the market by using this router to produce more machines. These machines will be offered as kits in various stages of completion starting with a basic kit that only contains the proprietary parts and finishing with fully installed and commissioned OSHA compliant package.
The 500 Series will be the first model offered to the public, having a cutting area of 6 feet high by 8 feet wide and 10 feet long. Because the router has a telescoping z-axis it will still fit under a 10 foot ceiling. Mr. Weir or, Donnie as he prefers to be called, designed the frame to be modular so the uprights can be cut to fit under any roof and the only loss of stroke will be what was removed from the uprights original height.
You might expect a project like this to take place in a full blow fab. shop, but Donnie has accomplished the majority of the work using modest tools and as little outsourcing as possible. Most of the aluminum used to the get the project to its current state was cut using a radial arm saw, normally used to cut wood, outfitted with and aluminum cutting blade. The parts that have been outsourced up to this point have been turned and milled in his father's machine shop 150 miles away from Donnie's garage. Regal Robotics currently has gotten to the point that the z-axis is moving under its own power and has set the goal of having the router running and producing kits by the end of 2013.
Because this part-time project has amassed a year's worth of labor over the past 18 months and has also hit his savings pretty hard Donnie has decided to give crowd funding a try in mid-July in order to ensure the year end goal can be met. Donnie hasn't decided whether he will use kickstarter.com or indiegogo.com, but is confident other creative and industrious people will rally around this project.
Contact
Regal Robotics
Donnie Weir
903-926-8141
regalrobotics.com
http://www.facebook.com/RegalRobotics
http://twitter.com/RegalRobotics
http://RegalRobotics.com

Contact