Shon Brooks "Star Cigar" Hits the Hard Rock Casino
The Dominican Republic - Punta Cana Hard Rock Casino exposes the S.O.B™ Dominican cigar brand.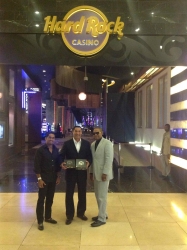 Punta Cana, Dominican Republic, July 12, 2013 --(
PR.com
)-- The one hundred percent S.O.B™ exclusive extra premium dominican cigar brand, after 3 years in the making, gets debut at the 5 star luxury Hard Rock Hotel and Casino, Punta Cana. The casino has over 450 slots, a Rock Spa below, and it is the largest casino in Punta Cana. Also, this all inclusive 5 star property on hotels.com (
http://www.hotels.com/ho309743/hard-rock-hotel-casino-punta-cana-all-inclusive-punta-cana-dominican-republic/
) rests on a gigantic 121 acres worth of premier beach front with stunning views. The S.O.B™cigar brand is brought to light in a timeless environment built by the 'Hardest Legendary Rockers' of all time! This is where the best 'Rock Stars' are showcased and exhibited.
The S.O.B™cigar leaves date back to 1894 through Tabaqueria Carbonell CXA. Brooks Entertainment Inc. is the registered copyright and trademark owner of the S.O.B™extra premium cigars and logo. According to the (BOE) Board of Equalization of the state of California (USA) list Brooks Entertainment Inc. as exclusive importer and distributor to the United States of America and internationally. This gives the private corporation strategic control over the product brand placement in all states and globally for resort hotels, boutiques and casinos.
www.SOBcigars.com
The hit-maker and inventor of the extra premium S.O.B™cigar brand, Shon Brooks, Identified Game Changer by Invention magazine, named Superhero by 'On Wall Street' magazine and Financial Planning magazine as noted has attracted an enormous amount of media press from his recent inventions. It is anticipated that by Christmas, the tariff on the S.O.B™cigars is projected to grow during holiday time. "I want to thank the Hard Rock Hotel & Casino staff especially Liz Mariella Garrido Pargas and Carlos Gonzalez for the VIP casino tour, guest entry passes, photo shoot arrangements and endorsement contract. More importantly, I want to thank them for providing the opportunity to shock and excite the world with the S.O.B™cigar invention," says Shon Brooks, CEO.
The S.O.B™luxury cigar brand was created for the 'Vanquisher' that plays the cards that has been dealt in life to win and not fold! It is vital that you remain ethical at all times even though others may bend the rules of life. Pressing on is when you begin to obtain Rock Star status!
For more information on obtaining the S.O.B™extra premium cigars while visiting the Hardrock Casino, Punta Cana:
Marketing Management Contact Information: Carlos Gonzalez x4712,
www.hardrockhotelpuntacana.com
, 809-731-0099, US M: 787-381-2507
Images illustrated in the copyright photograph above is Jose Rivas (L) Carlos Gonzalez (C) and Shon Brooks (R)
Contact
S.O.B Cigars
Paris Crosby (Retailer and Public Relations Calls Only)
619-575-0242
www.SOBcigars.com
S.O.B Cigar Authorized Retailer - Habana Club Cafe 858-231-6673 780 4th Ave
(between G St & F St)
San Diego, CA 92101
Neighborhood: Gaslamp

Contact