LifeSpan Announces Specialized Services for Enterprise Tablet Disposition
Data Erasure Process Ensures Compliance and Security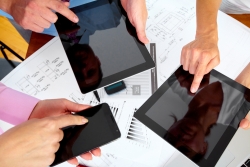 Newton, MA, July 16, 2013 --(
PR.com
)-- LifeSpan, a leading provider of IT Asset Disposition (ITAD) solutions, has announced new, specialized services that ensure the secure and compliant disposal of tablets. LifeSpan has been a leader and innovator in ITAD data security since the company's founding over 10 years ago.
In a recent press release, Gartner Research forecast that tablet shipments will grow almost 68% this year, while PC and laptop shipment will decline more than 10%. In response to this trend, LifeSpan has implemented new technology and procedures to continue to meet its clients' needs for secure, compliant asset disposition.
"Data security for disposition has historically focused on PC's, laptops and servers. LifeSpan recognizes that tablets and other mobile devices are a significant and growing asset category for enterprises," said Dag Adamson, LifeSpan President. "The complexity of data erasure has increased with these new devices and the SSD drives that they utilize. We've invested in new technology, training, and processes in order to ensure auditable, secure data erasure for our clients."
LifeSpan's tablet and mobile device service covers iOS (Apple), Android and Windows 8 devices. The service is available now.
About LifeSpan
Founded in 2002, LifeSpan is a managed services company providing end-of-life data security, IT and electronic asset retirement, and asset remarketing services to enterprises, lease companies, and government and non-profit organizations nationwide. LifeSpan offers organizations the flexibility of handling large quantities of equipment or many locations with a customized program. LifeSpan maintains the highest standards and certifications for data security, environmental protection and ethical business practices. LifeSpan holds additional industry certifications including NAID AAA, ISO 14001, and R2/RIOS. Learn more at our website: www.lifespantechnology.com
Contact
LifeSpan
Cindy Miller
888-720-0900
www.lifespantechnology.com

Contact