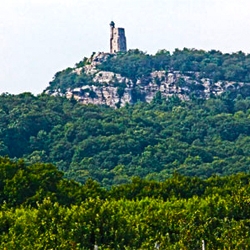 New Paltz, NY, August 06, 2013 --(
PR.com
)-- A State Supreme Court judge has ruled that Mohonk Preserve tried to take 75 acres of land belonging to one of its neighbors, according to a new article by Eric Francis Coppolino.
The article,
Moving Mountains
, was published simultaneously in Planet Waves, an online magazine, and Chronogram, a regional magazine. It was the result of a three-year investigation into the conduct of land conservancies in upstate New York. [For a copy of the article and decision, please write to
news@planetwaves.net
.]
The scenario calls into question the tactics of organizations trying to achieve what most would agree is the worthy goal of land preservation.
Mohonk Preserve, one of the most venerated institutions in the Hudson Valley region, is home of the internationally famous Gunks rock climbing area. The 8,000-acre private park, which is expanding continuously, claims to obtain land only from willing sellers.
In 1994, Mohonk attempted to purchase 75 acres belonging to Karen Pardini and Michael Fink from a third party. The investigation found that the deal was arranged by Robert K. Anderberg, general counsel of Open Space Institute (OSI).
Ten years later, Mohonk Preserve sued Pardini and Fink, trying to legitimize its title in court. After nine years of litigation, State Supreme Court Judge Christopher Cahill voided the purchase because the third party never owned the land it sold. Yet testimony alledged that both Mohonk and the seller were aware who the real owners were.
Mohonk's legal fees were paid by its title insurance carrier, First American Financial. The Preserve has vowed to appeal the decision.
This was the fourth time in 19 years that Mohonk or its agents have tried to take a portion of land belonging to Pardini and Fink by suing the couple, the article reports. Mohonk and its agents have never won a case against them.
Meanwhile, 28 of the Preserve's neighbors have signed an open letter to the Preserve, stating: "We respect the property rights and boundaries of the Mohonk Preserve. We now ask the Mohonk Preserve to publicly state their willingness to respect the property rights and boundaries of all of their neighbors."
Coppolino, the author of the article, specializes in environmental fraud and crimes against the environment. His work has been published by Sierra, The Ecologist, Huffington Post and Woodstock Times.
He will be the keynote speaker at the Property Rights Foundation of America's 17th national conference on Oct. 26.
Contact:
Nichole Clark (845) 338-4846