New Book Mixes Therapy and Cooking to Aid in Communications
Cookbook mixes therapy and recipes to act as a tool for families to come together at dinner time.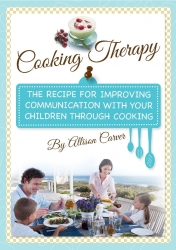 Richmond, VA, August 08, 2013 --(
PR.com
)-- In a world with constant distractions, families are sometimes hard pressed to find the time they can all come together and connect. Therapist and author Allison Carver is looking to reinvent the 'family meal time' by doing just that.
In her debut book, "Cooking Therapy: The Recipe for Improving Communications with Your Children through Cooking" (ISBN: 978-0-9853441-8-4, Release date August 20, 2013), Carver gives practical advice for parents looking to involve their children in the kitchen while cooking. The book offers valuable lessons along with recipes to cause parents to think "we can make that!" She even includes a shopping list and short quizzes to help families assess where they are.
"I've always believed that the process of cooking is relaxing," Carver says. "It's been my experience that through the creative process of cooking, families can find a new way to enjoy being together and reconnect through cooking."
Carver is a Licensed Professional Counselor and Nationally Certified Counselor. She earned her Master's of Education and Educational Specialist Degree in Clinical Mental Health Counseling from the University of Virginia. She is the owner and developer of A Taste of Therapy, LLC which is a one of a kind company that combines the power of therapy with the process of cooking. As a Culinary Therapist, she believes that through the process of cooking, one can relax, unwind and connect with others. When she's not cooking she can be found traveling and spending time with her husband and dog in Richmond, Va.
"We are thrilled to expand our counseling and advice section of ASD books," says Managing Editor, Greg Goldston. "Allison has made a huge splash on social media with her unique take on food and therapy and we believe many people will find her book a helpful tool for the kitchen."
Many people hear the word therapy and run the opposite direction. Carver hopes it will have you running to your kitchen. With "Cooking Therapy," she has created a way for families to communicate, connect, and come together all in one location. Through recipes, anecdotes, and therapeutic tips, Carver has mapped out a way to reinvent the family mealtime by bringing everyone together before and during a meal. It is that time at the dinner table and the act of cooking together that Carver believes is the secret to improving communication in the family.
Carver will be having local book signings in the Richmond, VA area and the book will be available in print in eBook at online retailers. For more information on Carver and upcoming events, visit www.atasteoftherapy.com
About ASD Publishing
ASD Publishing is an independent book publisher based in New Jersey specializing in thought-provoking literary fiction, memoir, self-help non-fiction, and written word that champions personal growth. www.asdpublishing.com
Contact
ASD Publishing
Greg Goldston
973-280-0145
www.asdpublishing.com

Contact