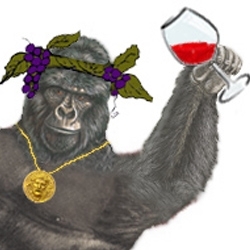 Aliso Viejo, CA, September 05, 2007 --(
PR.com
)-- WineApe, Inc. today announced the launch of (
www.WineApe.com
), a free "Wiki" wine rating and comparison service where the average wine consumer, as well as the connoisseur, can rate and find the best wines for their money. Wineries also receive free emails of the rating, where the wine was purchased and the price paid whenever one of their wines is rated.
The site allows visitors to easily rate wines and find wines based on rating, price or place sold (restaurants, bars, wine bars, liquor stores, grocery stores, etc.). It then lists wines rated by others, selectable by wine type. The site is free and requires no registration.
WineApe was founded in 2006 by Jeff Dracup, Colleen Wagner and Kevin Jackson -- three people who enjoy trying new wines, but who found that most wines had no rating. "We felt the 100-point wine rating system, used by Wine Spectator and others, fell short in several respects. First, the ratings come from a select group of people who may or may not have the same taste in wine as the average consumer. Second, and more importantly, there are just too many wines being released each year for all wines to be rated by such a small group of wine tasters. As a consequence, we found that the vast majority of wines have no rating," said Jeff Dracup, Co-Founder/CEO of WineApe.
"We want to inform consumers about as many wines as possible – by statistically combining the input of the world's largest group of wine tasters – consumers. In this way wine lovers have the information necessary to help them choose between the thousands of wonderful wines. Who is this "critic" to tell me what I should or shouldn't like? On the other hand if a group of independent consumers say they liked a wine -- it's more likely I'm also going to enjoy that wine. I feel more confident buying a wine recommended by many other wine consumers than just a few critics. You should be able to show up at that party with a wine you know will make the best impression to a majority of the people there, not just some snooty critic. Unless of course he's the one hosting the party," says Kevin Jackson, WineApe Co-Founder/CFO.
"Another goal of the site is to be attractive to visitors by not pestering them. We don't send any unwanted email or give out any email addresses" says Jeff Dracup. "If a visitor wants to be emailed when a particular type of wine is rated, we use their email for no other purpose than to send them that wine rating."
No personal information about the wine rater is included in the emails that go to the wineries. "We're hoping these emails will provide wineries with the feedback from consumers necessary to help wineries improve their wines and offer better wine values" says Colleen Wagner, President.
To receive the wine rating emails, wineries can update their contact information by emailing WineApe at info@wineape.com or by going directly to the "
Learn About a Winery
" tab on the homepage.
In addition to rating and searching wine ratings, visitors can optionally enter an anonymous username (as they would in a blog) so they can track their own ratings, and share more of their thoughts on a particular wine. They can also add comments beyond giving just their rating of a wine.
"As people from around the globe continue to enter wine ratings, we hope WineApe will become a valuable source of information to consumers and to the wine industry worldwide. We invite everyone to rate their favorite wine today," says Tom Duffy, WineApe Investor.
###