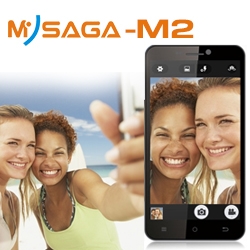 Shenzhen, China, August 31, 2013 --(
PR.com
)-- Boasting the best Chinese Android Smartphones and practical prices, Funbookes Mall readies MYSAGA M2 Smartphone in Shenzhen, China, in August, 2013.
Funbookes Mall
, headquartered in Shenzhen, China, announces the availability of the world's latest dual 13.0MP rank cameras Smartphone with super large apertures and professional lens at Shenzhen, China, in August, 2013. Arguably the latest dual 13.0MP cameras Smartphone, MYSAGA M2 is closely watched by photographers, Android lovers and travelers. MYSAGA M2 redefines what the Smartphone camera is. It features 8.0MP physical pixel (expansion to 13.0MP) front camera with F2.2 aperture and 13.0MP physical pixel (expansion to 13.0MP) back camera with F2.0 aperture, as well as 6P professional lens. MYSAGA M2 offers state-of-the-art self-capture and photograph experience. Manufactured by Shenzhen SAGA Mobile Co., Ltd, M2 is the latest product as well as the symbol of MYSAGA Smartphones. What's more, SAGA also selected Funbookes Mall as its first official distributor with stringent requirements.
Nowadays, more and more people are used to sharing pictures or photos through social networks including Facebook, Instagram, etc. For the inconvenience of traditional digital cameras and the general application of Smartphones, people have a higher requirement of Smartphone cameras. That's why MYSAGA M2 emerges. Possessed of backside BSI CMOS front camera and stack CMOS back camera, MYSAGA M2 ensures excellent picture quality in the mini cameras, which satisfies people's needs. The OV12830-PLC built in the back camera presents professional quality. Installed with highlight LED flashlight, it can be used day and night continuously. Blue glass filter assures the best color rendition.
13.0MP back camera with F2.0 aperture and 6P professional lens has the same photograph effect as professional cameras. 8.0MP front camera with F2.2 aperture, is also best for self portrait, video chat and teleconference.
Besides the advanced cameras, M2 also owns high configuration including 1.5GHz quad core CPU, Android 4.2 OS, 5.0 Inch FHD OGS Retina Screen and 16GB ROM. M2 is regarded as the most practical Smartphone in the $200 rank.
About MYSAGA and Funbookes Mall
MYSAGA is an overseas brand of a series of Smartphones produced by Shenzhen SAGA Mobile Co., Ltd, called SAGA inland. Shenzhen SAGA Mobile Co., Ltd is a high-tech company in mainland China, boasting 8 years' history. And it also has very good after-sale service. MYSAGA promises that all its products can enjoy International Warranty. In addition, MYSAGA chooses Funbookes Mall as its official distributor because Funbookes Mall is a worldwide comprehensive online shopping mall which not only has a good reputation but also is the distributor of famous Chinese Smartphones including Lenovo and Huawei.
Contact Information
support@funbookes.com
http://www.funbookes.com/