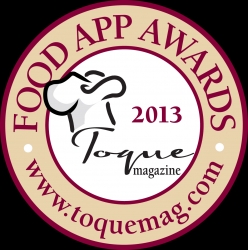 Huntington Beach, CA, September 19, 2013 --(
PR.com
)-- Toque Magazine announces its third annual awards event dedicated to food and drink apps for smartphones. Toque's 2013
Food App Awards
, which takes place December 12, 2013 at #foodappawards on Twitter, will bestow a Best Overall Food App award as well as 15 additional awards in categories including Best Value, Best Design, Best Cooking and Best Social. Apps can be entered directly on the toquemag site. Cost to enter one app is $50; $75 for two; and $100 for three.
After a first round of internal judging, a list of finalists will be announced. Then an outside panel of judges will test and score each app based on pre-defined criteria. The winners will be announced at a social media event on December 12, 2013.
"Food and drink apps represent a significant category particularly in the realm of GPS, contextual and database innovation," says Erika Kotite, owner and editor of Toque. "Not only must we search for food and drink, but we also have to share, store and educate ourselves about it."
Last year, Sara's Kitchen received the Best Overall award as well as Best Cookbook/Recipe and Best Branded. Other winners last year include Mixologist, GroceryIQ and iCookbook.
Submissions are welcome from developers as well as restaurants, chefs or business owners. Apps must be available in the U.S. and must be in English (or have an English version). Entering one app is $50 and it can be entered into more than one category. Apps should be in their most current version and can run on any standard mobile platform.
Deadline for entries is November 1, 2013. Finalists will be announced November 9. The winning apps will be announced during a Twitter event on December 12 at 6:30 PST.
For more information or to enter, visit Toque.
Toquemag.com is an online magazine featuring original articles on food trends, culture, politics, history and preparation. It is read by professional chefs, restaurant professionals, and passionate cooks congregate looking for news, articles, business advice, food app information, jobs and events.